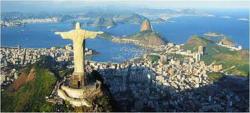 To go with Christ is good; the message of Christ is good.
(PRWEB) June 10, 2013
Tekton Ministries of Indianapolis, IN has announced a pilgrimage to Rio De Janeiro for World Youth Day 2013, July 23-28. Thirty-three young adults from Indiana, Wisconsin and Missouri have signed on for the trip where they will join more than one million other youth from around the world for the week long pilgrimage.
World Youth Day activities include 273 catechetical events, discussion groups, a hiking pilgrimage, time for prayer, reflection and reconciliation, various cultural festivals, and daily Mass. Pope Francis will attend the event and will hold Masses on Saturday and Sunday. An open reception for the Pontiff will be held July 25 at Copacabana Beach.
Pope Francis spoke of World Youth Day in the context of his Mass at St. Peter's Basilica on Palm Sunday. He said, "I look forward joyfully to next July in Rio de Janeiro! I will see you in that great city in Brazil! Prepare well – prepare spiritually above all – in your communities, so that our gathering in Rio may be a sign of faith for the whole world. Young people must say to the world: to follow Christ is good; to go with Christ is good; the message of Christ is good; emerging from ourselves, to the ends of the earth and of existence, to take Jesus there, is good!"
The local group will depart Indianapolis and Chicago July 21 and return the 29th. Those preparing for the pilgrimage will find more information at http://www.worldyouthday.com. For more information about Tekton Ministries pilgrimages, visit pilgrimage(at)tektonministries(dot)org.