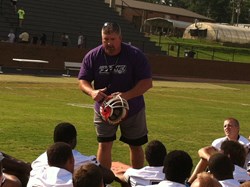 "Love and encouragement is our mantra. We teach kids how to live, love, and treat others with the kind of respect for one another to peacefully co-exist within communities." - Pope
Edina, MN (PRWEB) June 20, 2013
Seven years ago two men, Dan Donovan and Scott Pope met while selling cars together at an Atlanta-area Chevy dealership. Although each has since moved on, the two remain close friends. Scott Pope, now serving as full-time area Football Director for the Fellowship of Christian Athletes, asserts that it's that kind of friendship "grounded within the local business community" that enables the FCA to send deserving athletes to camps held every summer on the campus of the University of Georgia.
Annually, the FCA awards several hundred athletic scholarships to student athletes from metro Atlanta. The FCA camp programs combine coaching and leadership development principles with teaching of behaviors, attitude, and conduct consistent with biblical principles of the golden rule.
"Love and encouragement is our mantra," states Pope, "we teach kids how to live, love, and treat others with the kind of respect people must have for one another to peacefully co-exist within communities. No child, regardless of their ethnicity, religion, or ability to pay, is turned away. The FCA identifies and meets each kid's unique need – regardless of what that need may be."
Pope adds that their athletes often leave camp with more than a just a better game. The experience cultivates the kind of positive self-esteem and encouragement that can last a lifetime.
"It's all about relationships," says Pope, "the work we do starts with each of us doing what we can. Take my relationship with Dan from all those years ago – He mentions this camp to his boss Rylee Meek back at their company headquarters in Minnesota – and just like that, a few more kids will be able to go to football camp this year!"
For more information about how you or your company can participate in the FCA Scholarship program, please contact Scott Pope at scottpope(at)fca(dot)org.