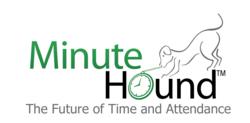 Through the use of 128-bit encryption, employees' private information is kept just that way: private
New York, NY (PRWEB) June 05, 2013
Fresh and efficient. Fast and 21st century conscious. Time and money saving. All of these words and phrases describe MinuteHound's new electronic time clock made especially for businesses. Instead of wasting hundreds or thousands of dollars per year on inaccurate time-keeping technologies and systems, businesses can now have better control over their system.
Instead of requiring employees to fill in timecards or using other old-fashioned methods, this fresh approach requires a fingerprint scan to sign into and out of work. The system is easy to use and simple to set up, and it does not require a dedicated computer. At the beginning and end of the day, employees take just a few seconds to accurately record their time. Since this new system uses fingerprint technology, it is impossible for employees to sign in and out for one another. When an employee receives a paycheck, the company can be assured that the money was well-deserved and entirely worked for.
Some worry about safety with this piece of new equipment, but MinuteHound is here to address all of these fears. The new electronic time clock never stores fingerprints. Through the use of 128-bit encryption, employees' private information is kept just that way: private. Even if someone was to break into the system, it would be impossible for this individual to steal the fingerprints of employees. In the 21st century, MinuteHound recognizes the threat of identity theft, and its system is already a step ahead of the thieves.
On top of providing safety, security and a streamlined process, this innovative system also lets bosses and managers know what is going on within the company. If a person does not show up for his or her shift or leaves early, a text message alert or email can be sent to the manager, owner, boss or another person in charge of the shift. The missing employee can be found, or a replacement can be immediately sought if the person does not intend to come in.
MinuteHound truly is a technology made for the 21st century. The system allows employees to get to work faster, and it lets everyone in the company have a better workplace experience. Furthermore, MinuteHound recognizes that some businesses truly never sleep. If a problem arises with the system, no matter what time of the day or night it is, around the clock support is available to address any problems or concerns.
When MinuteHound is invited into the workplace, the entire community is likely to see beneficial changes in the atmosphere within a short period of time. The new electronic time clock provides results from day one. Whether you're in Florida or Alaska, MinuteHound is the right choice for your business.
MinuteHound Contact Information
Website: http://www.MinuteHound.com
Email: info(at)MinuteHound(dot)com
Phone: (800) 351-7237