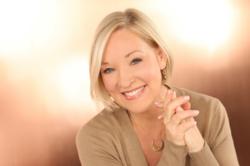 Each woman throughout the world is benefitting either directly or indirectly from this powerful visionary for women's physical, emotional and spiritual well-being.
Seattle, Washington (PRWEB) June 04, 2013
In a riveting interview, Best-Selling Author Dr. Christiane Northrup, M.D. shares her lessons of authenticity and women's current struggles with Kelly McNelis Senegor, founder of Women for One. Dr. Northrup, a world leading authority in the field of women's health and wellness, discusses feminine power and the body, mind and spirit challenges today's women are facing and overcoming. Dr. Northrup speaks about the current state of the world for women and shares tools that all women can apply to their lives to create a more empowered vision for themselves.
Dr. Northrup is the author of two New York Times best-selling books, Women's Bodies, Women's Wisdom and The Wisdom of Menopause. In 2005, her Quill Award-nominated book, Mother-Daughter Wisdom, was voted Amazon's #1 Book of the Year in both Parenting and Mind-Body Health categories.
Kelly McNelis is the founder of Women for One. Her vision for all women of the world is to empower them with the tools they need to become successful and authentic each day of their lives. Women For One is a global community of women encouraging authenticity and inspiration. This movement empowers women of all ages, ethnicities and backgrounds to exchange authentic dialogue by sharing life lessons and supporting one another to create a powerful new vision for their life. Since its inception two years ago, Women For One has engaged a social media reach of over 4 million users from over 60 countries on 5 continents.