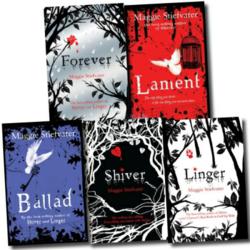 Leicester, England (PRWEB UK) 8 June 2013
Snazal Wholesale Books (link: http://www.snazal.com) announces it is now offering the five book collection, written by Maggie Stiefvater, for purchase online.The collection of five teen novels includes the titles "Shiver," "Linger," and "Forever."
This five book set boasts the following awards and accolades:

NYT Best Seller for more than 40 weeks
Publishers Weekly Best Seller
USA TODAY Best Seller
ALA Best Books for Young Adults
Amazon Top Ten Books for Teens
The five books depicts a woman, Grace, who lives in the woods and watches a pack of wolves behind her house. After constant observations, she starts to notice one yellow-eyed wolf, who happens to be Sam and is a creature that takes the form of either human or wolf as the seasons change.
In the winter, Sam is a wolf – and, in the summer, he spends three months in the form of a human. Grace happens to meet Sam while he is in human form, and a tale intertwines between the two as Sam fights to maintain a permanent human appearance to stay with Grace forever.
Stiefvater resides in the US, and is also the best-selling author of The Raven Boys, The Scorpio Races, and Books of Faerie. To order on-line, users can directly visit Stiefvater's page on Snazal (link here: http://www.snazal.com/products.php?sbk=Maggie%20Stiefvater) or browse categories listed on the homepage by genre, authors, or titles. The site is designed for easy purchasing with a checkout application that allows customers to purchase books on-line.
Sample quote: "We're excited to offer the five books to our customers, especially since young adult fiction is wildly popular with them," said xx of Snazal. "These days, reading is an overlooked pastime, and we want to encourage young adults to read and discover widely popular series such as this one."
Snazal is a global book distributor, and supplies book stores and small businesses with titles about topics ranging from history to gardening. The site allows customers to buy individual titles or titles in bulk, and features more than 2.2 million books.
About Snazal
Since 2006, Snazal has grown to become a worldwide book distributor, supplying independent book stores and other small business venues with specially selected, hand picked titles. Snazal offers more than 500,000 books on a variety of topics, ranging from children's interests to history, to the general public and trade communities. To date, this UK-based supplier has worked with prestigious distributors and publishers to serve more than one million customers.