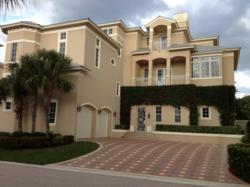 Jupiter, Florida (PRWEB) June 07, 2013
If you are familiar at all with short sales, you know a short sale is when you owe the bank more than the value of the home. This means when you sell the home, the seller needs to come up with money, or the bank takes the short, typically giving the seller some sort of credit hit or asks for a deferred payment.
155 Ocean Key went on the market originally not as a short sale, but asking $2,500,000 in October of 2010. Jupiter Key is a gated community located across the street from the ocean here in Jupiter. This home was one of the nicest in the community offering 3 floors of views of the amazing ocean and a 2 bedroom guest house all built in 2004. This home did many price changes over the times and even went under contract once. Going from $2,250,000 in October of 2011, to going under contract in July of 2012 as a short sale, to back on market asking $1,350,000 October of 2012. At this point they had one other contract in October 2012, this contract made it all the way to the sale April of 2013. Almost a full 7 months of being under contract, and going back and forth with the bank, the house finally turned to sold!
Theresa White of Dist inct Estates rep resented the buyer on the purchase of the sale, and was extremely diligent in keeping her client up to date on everything going on. Theresa White has been working with Distinct Estates since they opened the doors in 2010. She is a hard working agent and treats every client she has as if they were her only client. She knows the Palm Beach County market extremely well and sells many homes here annually. Specializing in luxury real estate sales, Theresa White is a great agent to turn to if you are looking to buy or sell a home here in the Palm Beach area.
Distinct Estates is a newer real estate company which is expanding every year. Opening the doors in Jupiter in 2010 with around 8 agents to now more then 3 offices and 60 agents. Distinct Estates agents are full time agents whom work hard for there buyers and sellers with great knowledge and experience. Distinct Estates has offices in Tampa, Miami, Jupiter, Juno Beach, and Broward County.