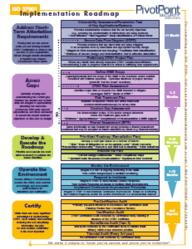 We're proud that our ISO 27001 consulting services prepared CDS for successful ISO 27001 certification.
Hamilton, NJ (PRWEB) June 28, 2013
Complete Discovery Source, the nationally ranked leader in eDiscovery, recently announced that it has achieved ISO 27001 certification for its information security management system (ISMS) protecting sensitive data processed by its Electronic Discovery Hosting Services. ISO 27001:2005 is an international standard in information security management enabling companies throughout the world to develop, implement, operate, maintain and improve information security processes and controls within their organizations. In order to receive this certification, CDS demonstrated a systematic and continuous approach to managing sensitive information through a rigorous risk management focused testing and evaluation process.
CDS leveraged Pivot Point Security's scalable ISO-27001 Implementation Framework and certified team to reduce the cost, time, and complexity of preparing for their certification audit. Pivot Point worked as an extension of the CDS team to extend their existing information security management system so that it was fully compliant with the world's leading information security standard.
"ISO-27001 certification demonstrates CDS' commitment to achieving and upholding a higher standard among eDiscovery firms," says John Verry, Security Sherpa and ISO 27001 certified Lead Auditor for Pivot Point Security. "We're proud that our ISO-27001 consulting services prepared CDS for successful ISO-27001 certification."
For more information about this Pivot Point Security practice area and related service offerings, please visit http://www.pivotpointsecurity.com or call 1-888-PIVOTPOINT.
About Pivot Point Security
Pivot Point Security ISMS consulting practice is focused on helping organizations architect strong Information Security Management Systems that protect sensitive information in accordance with all regulatory compliance requirements (e.g., HIPAA, PCI, PII) and are easily certifiable against leading information security frameworks including ISO-27001, SOC2, Shared Assessment AUP, and FedRAMP.
About Complete Discovery Source
Complete Discovery Source (CDS) is the leader in eDiscovery, ranked number one by both the National Law Journal and New York Law Journal, and a trusted advisor to more than 75% of the Am Law 100 and a quarter of the Fortune 500. CDS Legal uses advanced, tested, and defensible technology and processes to support all stages of eDiscovery including planning, early case assessment, processing and production, review hosting, managed review, and cross-border global coverage. Their web site is http://www.cdslegal.com.