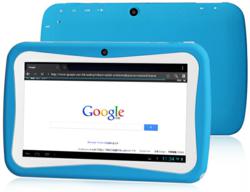 (PRWEB) June 27, 2013
Everbuying.com, a leading China wholesale store that operates in the global wholesale market, has added the 7 inch M755 Android 4.1 Tablet PC, 8 inch Nextway F8X Quad Core Tablet PC with Android 4.1 ATM7029 1.2GHz 1GB RAM 8GB ROM in Silver, and Mini 7 Android 4.2 3G Phone Tablet PC 7 inch WXGA Screen 1.2GHz 16GB ROM WiFi Dual Cameras in Silver to their huge selection of tablets.
The 7 inch M755 Android 4.1 Tablet PC comes with Boxchip A13 and a WVGA Screen in Blue. Some of the other features are 4GB memory, dual camera, and it supports flash 10.3. The 1GHz processor speed along with its light weight build and other useful features such as long battery life and Skype call support makes this colorful and lovely tablet a good choice for children.
The Mini 7 Android is a 7 inch Phone tablet that comes with the latest android 4.2 OS. Its quad core processor and 16GB capacity makes it an ideal choice for all users. This tablet also features a dual camera, bluetooth, built in 3G, and GPS. With its long battery life and 1280 x 800 resolution IPS screen, the tablet is affordably priced.
The 8 inch F8X Quad Core Tablet PC with Android 4.1 from Nexway boasts a 5 point touch panel and a screen resolution of 1024 x 768. It also supports flash 11.x and 3D games. Competitively priced, this high quality 1.2GHz and 8GB ROM tablet that is available in silver also offers long battery life.
Everbuying.com is committed to providing people high quality products that are sourced to exacting standards at incredibly low wholesale prices. Since 2006, they have enjoyed years of continuous growth having served thousands of satisfied customers from over 200 countries.
About Everbuying.com:
Everbuying.com is an online store where people can buy cheap electronics, apparels and accessories at the lowest and the most competitive factory direct prices. They also offer secure payment and a free international free service to guarantee the best buying experience.
http://www.facebook.com/everbuying
https://twitter.com/EverbuyingFans
https://plus.google.com/101863840654941901966
Contact information is:
Email:jiahao1025 (at) hotmail (dot) com
Media Contact
USA (Customer Service)
Mon-Fri (7:30am to 5:00pm)
Sat (7:30am to 12:00pm)
530-758-3758 (Toll free for US Callers)
+1-530-758-3758 ( Callers Outside the USA)
China (Customer Service)
Mon-Fri (8:30am to 9:30pm)
Sat (8:30am to 6:00pm)
+86-0755-26063090 (For all customers)
All times are Beijing Time (GMT +8)