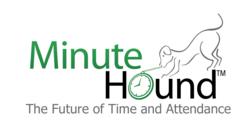 This new innovative system keeps track of time through the use of the Internet
New York, NY (PRWEB) June 13, 2013
In today's economy, businesses are working harder than ever to keep up and compete with other giants in the industry. However, when they are losing hundreds and thousands of dollars to inaccurate timekeeping measures, it's impossible to face the competition and make a mark on the world of industry. Fortunately, with the arrival of MinuteHound's new cloud based software, staying on top of timekeeping is easier than ever.
This innovative system keeps track of time through the use of the Internet. A fresh approach is what businesses need when they are fighting to stay afloat. Old-fashioned time systems do not work as well because they are time consuming. Employees used to have to spend too many precious minutes filling out sheets and calculating their hours, but this system is a 21st century solution for a technological world. With a simple swipe of their finger or thumb on the fingerprint scanner, employees check-in and check-out in less than a moment. The information is then transferred offsite using secure 128-bit encryption.
Not only does this system help to bring more minutes to the day, but it also improves accuracy. Companies often worry that employees are swiping in and out for one another, but that's simply not possible when fingerprints are used. Bosses and managers always know exactly who was present and who was not. If an employee does not show up for work on time or attempts to leave early, a message is sent over to the person in charge. The leader then has the opportunity to find a replacement or to figure out where the missing person is.
This streamlined process allows more ease and accessibility for everyone involved in the process. When it's time for the payroll department to do its job, all of the information is neatly packaged before them. No timesheets need to be delivered to another department, and workers need not spend hours trying to figure out if a person was present or not. This provides everyone with time to attend to more important tasks.
"Quickly" and "efficiently" are the buzzwords of companies in the 21st century, and MinuteHound's newest system responds to these needs. All throughout the process, web-based reporting makes it easier for everyone to access the system, create accurate reports and process payment information. When each and every part of the system is happy and healthy, greater levels of productivity occur for the company as a whole. Each scanner is also guaranteed for life.
MinuteHound Contact Information
Website: http://www.MinuteHound.com
Email: info (at) MinuteHound (dot) com
Phone: (800) 351-7237