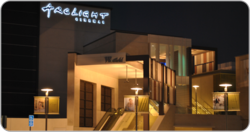 Christie's NOC support services are an excellent fit for our ongoing needs. The professionalism from their staff, and reporting tools continue to be a significant benefit for our organization.
Cypress, CA (PRWEB) June 07, 2013
ArcLight Cinemas can rest easy knowing that its 90 Christie digital cinema projectors installed at the chain's seven locations in California, including its newest addition in San Diego, are protected with 24/7 remote monitoring and reporting through Christie's Network Operations Center (NOC) and additional Managed Services offerings such as round-the-clock phone support and quick access to locally-stored spare parts.
As one of the first theater chains in the U.S. to convert to digital projection, ArcLight Cinemas (along with sister company Pacific Theatres) recognized the need to safeguard its investments early on with Christie's NOC and the Managed Services team, who work alongside a national dealer network to design, deploy and support fully-customized visual display systems whether it be projection equipment or lobby displays that integrate into all cinemas.
Joe Miraglia, director of design, construction and facilities for ArcLight Cinemas, stated, "Christie's NOC support services are an excellent fit for our ongoing needs. The professionalism from their staff, and reporting tools continue to be a significant benefit for our organization. No matter whether it's a small inquiry or a major outage, we know the Christie NOC team is there to support our needs."
As part of the NOC's reporting capability, customers can choose customized software and weekly and monthly reports through an automated system that distributes information to cinema operators to help them run their theaters more effectively. According to Miraglia, the collection of data that reports how the theaters are performing overall was important. "I get weekly equipment inventory reports that tell me how much space is on my server and I receive notices about software updates and incident performance reports. The monthly analysis really tells me what's happening along with the trends and patterns within my company, and that's huge for me."
"We are pleased that ArcLight Cinemas put their confidence in Christie's Managed Services team and our NOC," said Sean James, vice president, Managed Services at Christie. "With new technologies and programming constantly evolving, a state-of-the-art NOC for remote monitoring, in particular, provides a safety net for theaters embarking on the digital age of 2K and 4K digital cinema projection."
Miraglia said Christie's track record and history in the cinema industry gave them the edge over the competition. He was also confident that they made the right choice because of Christie's Ed Vitelli and his teams' extensive IT background. The analytical and systematic approach that Ed and his team incorporate into their analysis impressed him. Their approach was aligned with that of ArcLight Cinemas', helping to reduce down time and guest-facing incidents.
Managed Services functions as a single point of contact. The service team can support all lobby displays and projection equipment, multi-media and audiovisual hardware, associated software and business application systems, as well as servicing other manufacturer's warranties. Extended services from Christie's Managed Services team include on-site preventative maintenance and emergency repair service, quick access to locally stored spare parts and online training. In addition to providing end-to-end solutions for projection and in-lobby digital displays in the cinema environment, Christie's Managed Services team also has a technology-agnostic approach in that they support all your cinema equipment including a wide array of manufacturers, projectors, technology platforms, visual displays, servers, switchers and networking products.
About ArcLight Cinemas
ArcLight Cinemas, created by Pacific Theatres, represents an evolution in the movie going experience. With locations in Hollywood, Sherman Oaks, Pasadena and El Segundo, the chain offers an unprecedented combination of technology, amenities, comfort, and customer service. ArcLight Cinema's dynamic programming ranges from the newest Hollywood blockbusters to independent art house fare, cult favorites and classics and 21+ screenings, making it one of the most popular destinations for discerning moviegoers. Its signature amenities include black box auditoriums, extra-wide seats with double armrests, stadium seating, reserved seating at many locations and a wide variety of counter and café food options. For more information about ArcLight, visit http://www.arclightcinemas.com.
About Christie®
Christie Digital Systems USA, Inc. is a global visual technologies company and is a wholly-owned subsidiary of Ushio Inc. Consistently setting the standards by being the first to market some of the world's most advanced projectors and complete system displays, Christie is recognized as one of the most innovative visual technology companies in the world. From retail displays to Hollywood, mission critical command centers to classrooms and training simulators, Christie display solutions and projectors capture the attention of audiences around the world with dynamic and stunning images. Visit http://www.christiedigital.com.
For more information contact:
Carmen Robert
519-572-5824
carmen.robert(at)christiedigital(dot)com
Mario Almonte
Herman & Almonte PR
(212) 616-1190, ext. 267
malmonte(at)herman-almontepr(dot)com
Follow Christie at:
Facebook.com/christiedigital
Twitter.com/christiedigital
"Christie" is a trademark of Christie Digital Systems USA, Inc., registered in the United States of America and certain other countries.