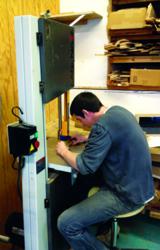 Irvine, California (PRWEB) June 05, 2013
James McNabb, a woodworker from Philadelphia, is the winner of the 3rd Annual National "Show Us Your Love" Band Saw Contest, sponsored by Laguna Tools – a leading maker and distributer of woodworking machinery and tools. McNabb, whose artistic creations have been attracting a great deal of attention of late, was awarded new Laguna Tools LT SUV Band Saw valued at over $1,600 his striking New York City skyline creation.
The contest invited woodworkers from across the country to "fire up" their band saws and show off their creativity. "After reviewing a record number of amazing entries, McNabb's wonderful sculpture depicting the New York City skyline emerged as the winner, said Catherine Helshoj, spokesperson for the event. "We believe it's only a matter of time before he becomes a very well known artist in his chosen median – wood."
For McNabb, who studied Woodworking and Furniture Design at Rochester Institute of Technology (RIT), learning how to create intricate pieces using only hand tools was vital in his development at a woodworker."
"We were taught how to create in the old fashioned way, and it gave me a true appreciation for the craftsmanship involved with woodworking," he said. "I'm not sure that without that type of disciplined grounding in the trade that I could be doing what I love today."
McNabb went on to earn a Master's Degree in Studio Art (wood) from Indiana University of Pennsylvania, and eventually settled down in Philadelphia with his wife, Stephanie and Buster, their dog. "My wife is a website designer, and we enjoyed our life, but I was feeling somewhat stunted creatively. So I rented some bench space form a cabinet shop, and one day just picked up some wood and started cutting it with a band saw. I had the music blaring in my headphones, and really didn't know what I was creating until an idea came to me."
He said the cuts he made were totally intuitive, "I just let my band saw do my thinking and recognizable forms starting taking shape – each different from the other. Without consciously thinking about it, I was creating a view of New York City, a sort of abstract depiction of the view I used to marvel at as a kid growing up in New Jersey," McNabb said. "The more pieces I created, the more I knew I was onto something."
According to McNabb, the winning piece in the Laguna Tools Bandsaw Contest, which is now part of what he calls "The City Series, took about eight weeks to finish, and uses hundreds of various architectural forms that he glues into place to form his memorable cityscapes.
"Certainly, my work isn't pulled form any architectural building you would necessarily see in the city," he said. "I view cities as a place where you can be successful… a land of endless possibilities. And as such, no two of my pieces are alike. I couldn't create a template for what I'm doing if I wanted to."
McNabb uses scrap wood for his projects, which includes an assortment of furniture, have not gone unnoticed by publications such as Fine Woodworking, Popular Culture and many other online woodworking websites. "I'm very gratified that people are enjoying my work, as much as I love the creative process. I couldn't have done it without my wife, who has supported my efforts every step of the way.
"My mind basically goes blank, and start cutting with my Laguna Tool's Bandsaw," he said. "While I loved making things by hand, using a bandsaw is the difference between an author writing a book long hand versus using a computer. The bandsaw cuts almost as fast as I think – which is a huge advantage in my art. This is a terrific bandsaw that I use like an artist uses a paint brush."
About Laguna Tools
Laguna Tools, based in Irvine, California, has been leading the industry in woodworking innovations for 29 years and continues to challenge the industry with new advancements. Laguna Tools aims to be "globally local" by investing time, support, products and services into many community outreach programs.
For more information go to http://www.LagunaTools.com or call 800-234-1976.