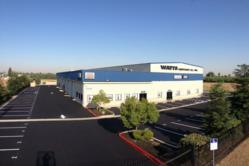 "I am really happy that Watts Equipment took the time out of their day to show all of us around. This open house is just another example of how they continue to prove to us that we customers are like family. I had a great time." - Steve M.
(PRWEB) June 07, 2013
Watts Equipment Co. Inc. announced their relocation to a larger facility in Manteca, Ca. The new building, located at 17547 Comconex Rd, Manteca, CA 95336, has been designed to reflect the company's growth and customers' needs.
The relocation is an appropriate indication of the company's consistent, strategic growth. The relocation will provide Watts Equipment with an industry leading show room, larger service and parts departments, as well as an in house training facility for new employees. The new 24,000 sq. ft. facility will continue to service California's Central Valley, from North & South Livingston to Galt, and East & West, Sonora to Tracy.
"To our loyal customers, I am proud to announce that as of May 13th 2013, Watts Equipment has be operating 100% out of our new facility," stated Shirley Perreira, General Manager and President of Watts Equipment Co. Inc. "I want to thank each of you for your continued support of Watts Equipment. It is 100% because of each and every one of our customers that we continue to grow."
In the new industry leading showroom, customers will not only be able to look at new equipment, but demo everything they see as well. The state-of-the-art showroom will allow customers to demo the equipment via pallet racking set-ups, similar to what may be used in their own warehouses. Furthermore customers need not interrupt their daily schedules to visit Watts; Hours of operation are Monday thru Friday 7:30am-5pm.
The larger parts department will provide customers with easier access and more parking, resulting in a faster, smoother delivery or pick-up. Modern upgrades to the service department will allow for a faster turnaround time as experienced Watts technicians perform routine maintenance or repair services to forklift equipment.
Finally, the new in-house training facility illustrates Watt's dedication to customer service as per team training and development as both Toyota Forklift and Crown Lift Trucks have extensive training programs for the technicians. This area has been designed to allow new employees to train in an interactive, closed setting. Without any distractions, trainees are able to dedicate their time and work with onsite equipment.
Watts Equipment held an open house for all their customers and community members from 11 am until 3 pm on May 23rd, 2013. Visitors were able to tour the new showroom, larger parts and service departments, as well as the state-of-the-art training room. The open house for California Central Valley's #1 Forklift Company showed Watts' company growth, focusing on their increased use of social marketing and mobile applications. They were happy to have an attendance of more than a couple hundred visitors. If you didn't have a chance to visit the open house, you can call (209) 825-1700 to schedule a tour.
About Watts Equipment Co. Inc.:
Founded in 1967 by Virgil Watts, Watts Equipment continues to supply California's Central Valley with the best brands in the lift truck world. The company is now operated by the original founder's son, Brock, who wishes to pass his title onto the third generation of the Watts family Blake Burnham. Focused on customer and community service, Watts has donated forklifts and pallet trucks to a variety of local organizations, including the Red Cross, Habitat for Humanity, Commodity Supplement, Lodi House, Bread of Life, 2nd Harvest Food Bank, Emergency Food Bank, and many other non-profit organizations in the area. Watts Equipment is pleased to expand to their new location located at 17547 Comconex Road, Manteca, CA 95336.
Follow us on Twitter, like us on Facebook, connect with us on LinkedIn, and browse our videos on YouTube.