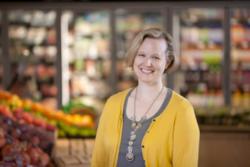 Maggie Bean is one of those rare creative talents who can deliver a triple threat of capabilities
Charlotte, NC (PRWEB) June 17, 2013
Theory House, the leading shopper marketing agency for North America's next great brands, today announced the appointment of Maggie Bean as associate creative director. The former principal of Karro Bean Design House brings more than 15 years of Omni-Channel experience to the agency.
"Maggie Bean is one of those rare creative talents who can deliver a triple threat of capabilities," says Jim Cusson, president of Theory House. "Our agency, and more importantly, our clients will benefit greatly from her ability to concept ideas, bring them to life visually and wrap them in engaging copy."
Before launching her own design and marketing business in 2007, Bean was a part of the Luquire George Andrew's creative team, serving as an associate creative director on Novant Health, BB&T and American Tire Distributors. A graduate of the University of Virginia, Bean is also a past president of AIGA Charlotte
Theory House, launched in January 2013, focuses its efforts on helping retailers and North America's next great brands succeed at retail. The agency has already secured projects from Food Lion grocery stores and GUNK® brand of engine cleaning and degreasing products.
About Theory House
Theory House is the leading shopper marketing agency for North America's next great brands. It helps retailers and brands thrive through a complete suite of shopper marketing services that connect with shoppers along the consumer decision journey. These services include research and insight, branding and design, retail activation, and digital engagement. More information about Theory House and its approach to shopper marketing can be found at http://www.TheoryHouse.com or by contacting Jim Cusson at 704-665-0714.