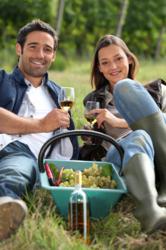 An amazing mix of small boutique wineries I had never heard of, and large well-known wineries where I was able to taste and explore more of what they had to offer.
(PRWEB) June 04, 2013
There is a new tour company, Harvest Wine Tours, providing a very unique approach to touring wineries of Napa & Sonoma. With these tours, wine lovers do not need to hire a driver, although they can if they want. The wineries included in the Napa and Sonoma wine tours are chosen based upon several factors; the quality of the wines, the ambiance of the winery, and the level of personalized service provided by the winery staff. Each self-guided wine tour includes a specially selected winery for a picnic lunch, one of the many challenges faced by visitors to the wine country. The tours are designed to be extremely flexible so that users can start their day whatever time they want, stay at each winery as long as they want, and move on to the next winery when they are ready… visiting as many of the hidden wineries of Napa & Sonoma as their day allows. It is a self-guided wine tour that provides the information needed to visit the best wineries of Napa & Sonoma.
Most tour companies provide either a tour bus or a limousine that visits specific wineries on a set time table. Harvest Wine Tours doesn't provide either. According to owner Michael Weiner, "I started Harvest Wine Tours to be able to provide people with something I always wanted when I began visiting the wine country … recommendations of the very best wineries to visit. I found a lot of tour companies that were willing to recommend wineries as a part of their tour service, but I never found a company that would just provide me with a list of the best wineries. So I decided to start a company dedicated to the design of Self-Guided Wine Tours visiting the best wineries of Napa and Sonoma." At Harvest Wine Tours, each self guided wine tour includes the names of eight wineries, some of which are very small, hard to find wineries. Smaller wineries generally do not produce enough wine to distribute nationwide, therefore, they remain mostly unknown. Each self-guided wine tour discusses the wineries included in the tour, their hours of operations and the tours & tastings that are offered at each winery. Each of the Napa Valley wine tours also includes a specific recommendation of a winery where visitors can enjoy a picnic lunch. According to Mr. Weiner, "Only a small number of the wineries of Napa & Sonoma have picnic areas, so it can be difficult to find a winery with picnic grounds that fits well with the plan for the day." The self guided wine tours range in price from $19.95 to $49.95. Harvest Wine Tours also has a program to design a custom tour for wine lovers that want an incredible experience, visiting special wineries that are specially selected for them. It is a unique approach to wine country tours that provides terrific recommendations for both novice visitors and seasoned wine country aficionados, alike. Harvest Wine Tours can be found online at http://www.HarvestWineTours.com or via e-mail at info(at)HarvestWineTours(dot)com.
For more information on Harvest Wine Tours, or to schedule an interview with Michael Weiner, please call Michael at 855-627-2868, or e-mail Michael at Michael(at)HarvestWineTours(dot)com