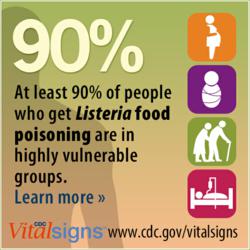 Food poisoning is always a miserable experience, but for the most vulnerable people, food safety can literally be a matter of life and death."
Atlanta, GA (PRWEB) June 06, 2013
Sometimes foods we love and count on for good health are contaminated with germs that cause serious illness and can be deadly for certain people. Listeria, while rare, is one of the most deadly germs spread by contaminated food. The report discusses:
•Most at Risk: Listeria targets older adults, pregnant women and their babies, and those with weakened immune systems. These hard-hit groups account for at least 90 percent of reported Listeria infections.
•Deadly Consequences: Listeria is the third leading cause of death from food poisoning. Most people who have Listeria infections require hospital care and about 1 in 5 of them die.
•Risky Foods: Listeria can hide unnoticed in food-processing equipment and contaminate food during production and processing. Outbreaks in the 1990s were primarily linked to deli meats and hot dogs. Now, Listeria outbreaks are mainly caused by soft Mexican-style cheeses like queso fresco and other cheeses that were either made from unpasteurized milk or that got contaminated during cheese-making. Some outbreaks have also been caused by foods that people may not think of as risky for Listeria, like celery, sprouts, and cantaloupe.
Barbara Mahon, MD, MPH CDC Deputy Chief, Enteric Diseases Epidemiology Branch, Division of Foodborne, Waterborne & Environmental Diseases, Centers for Disease Control and Prevention shares her thoughts on Listeria, "Food poisoning is always a miserable experience, but for the most vulnerable people, food safety can literally be a matter of life and death. Pregnant women, older adults, and people with weakened immune systems need to not only be really careful about the basics of food safety that are important for everyone, they also need to know that foods like hot dogs, deli meats, soft cheeses, smoked fish, and even produce have transmitted Listeria."
Genetic fingerprinting of Listeria through CDC's PulseNet has identified many outbreaks. In 2004, CDC and state health departments developed a rapid response system for Listeria called the Listeria Initiative. Disease detectives rely on this to solve outbreaks faster, which prevents sickness and saves lives.
The Vital Signs report also lists actions to protect people most at risk for Listeria infection who need safe and healthy foods as much as, if not more than, everyone else. Everyone, but particularly those at risk, should not eat foods made with unpasteurized milk, follow the good food safety practices of clean, separate, cook and chill, and be aware of food recalls.
For more information on Listeria, visit CDC's Listeria website.
For more information on preventing food poisoning, visit http://www.foodsafety.gov.