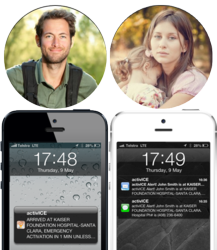 The automated location-based emergency App for iPhone.
Brisbane, Australia (PRWEB) June 17, 2013
activICE is an I.C.E. (In Case of Emergency) App that automatically alerts up to five contacts of a users hospitalization. activICE also provides medical staff with the user's emergency medical details by presenting notifications; even if the iPhone is passcode locked.
activICE privately monitors the users proximity to hospitals in the background using location services already running on the iPhone. It triggers if the user is in hospital after a four minute delay. This prevents accidental activations when driving or walking nearby hospitals. A cancel notification and warning sound are presented after the delay and one minute prior to actual activation, letting users further avoid accidental triggers. activICE automatically alerts emergency contacts via SMS and e-mail with the users name and the hospital details. Medical details are also presented for emergency workers on the iPhone lock screen before the passcode needs to be entered.
All of the user's personal and medical details remain securely on their iPhone and never leave the device. Matt Crombie, Radius Interactive R&D Director, says "There is intelligent software built in that is aware if a user is actually in a hospital or not. It allows for passing by hospitals and cancels when you leave the area. It all works automatically from the background." With over 8500 precise hospital locations; all the user has to do is set and forget.
"The idea came about after a friend woke up in hospital and his partner was in a different city, completely unaware. I had heard of the I.C.E. concept before, but due to the amount of personal information we all keep on our phones these days most people keep them passcode locked. This presents a significant problem for hospital staff who are so close to vital contact and emergency information.", Said David Burkett, Radius Interactive Sales & Marketing Director.
activICE is now available to try for free in the Apple App Store by visiting http://www.appstore.com/activice. Users can 'Go Live' via an In-App subscription for US, UK, AUS and NZ. This allows for their full medical details to be presented and emergency contacts alerted via SMS and e-mail. activICE Live costs $4.99 per month with a discount for 12 months down to just $2 per month. All prices are US (USD) and are priced accordingly in other regions. activICE is already compatible with IOS 7 and an Android version is already in development.
Please visit http://www.activiceapp.com for more activICE information, including videos and screenshots of the Application.
Radius Interactive is an independent Australian company founded by Matt Crombie and David Burkett. Collectively Radius Interactive brings together over 15 years experience with technology development and marketing. Matt and David have developed the activICE application using their own funding and resources over the last nine months. Please visit http://www.radiusinteractive.com.au for more company information.