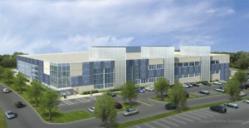 During Sandy, many clients took advantage of using the seats so they did not lose access to their servers and to prevent outages to their business operations.
Shelton, CT (PRWEB) June 20, 2013
Due to ongoing high demand and to address customer requests, Cervalis is adding additional office space for Business Continuity Workspace Recovery. Cervalis will make available over 600 work recovery seats in a new building in Passaic County, New Jersey, in close proximity to their current facility in the area.
Data Center work recovery seats or work area recovery site is a location where an organization can easily relocate following a disaster, such as fire, flood, terrorist threat or other disruptive event. More and more data center customers are looking to create an alternate working environment in case their primary offices are unavailable during emergency situations. This is especially true following recent emergency events such as Hurricane Sandy and Hurricane Irene. When a disaster occurs, customers can move their staff to the alternate office location and resume business operations, an integral part of the disaster recovery plan and wider business continuity planning of an organization.
"Demand has been strong and has dramatically increased since Sandy," said Zack Margolis, VP of Sales and Marketing at Cervalis, one of the East Coast's premier data center and business continuity services providers. "During Sandy, many clients took advantage of their alternate workspace environments in the Cervalis facilities, which enabled them to continue normal business operations even under the harshest weather conditions."
Having an alternate facility to enable your workforce to regain access to information and maintain productivity in the event of an unplanned interruption is important to companies that cannot afford to stop service or support to their clients and business associates. Having an alternate workspace environment customized to meet the specific needs of the customer is the choice of all companies that require ongoing and continued business operations.
About Cervalis
Cervalis is a premier provider of IT infrastructure solutions including business continuity/rapid recovery, managed hosting, enterprise cloud computing, managed security, managed storage and colocation. The company's skilled professionals, world-class facilities and outstanding customer support provide our clients with a secure IT environment that ensures a higher level of business resilience. Cervalis' state-of-the-art operations centers total more than 500,000 square feet of space. The company has completed annual SSAE 16 audits and achieved PCI DSS and Safe Harbor Certifications. For more information about Cervalis and its data centers, please visit http://www.cervalis.com.
For more information please contact:
Michelle Ziperstein
Marketing Communications
Cervalis, LLC
866-602-2020