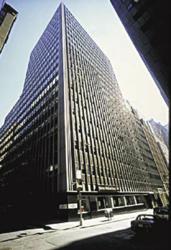 New York, NY (PRWEB) June 06, 2013
eMag Solutions, LLC ("eMag Solutions" or "eMag"), an internationally renowned provider of data restoration and electronic discovery ("eDiscovery") services, today announced that is has moved its NYC branch to a premier William Street address to accommodate its rapidly increasing footprint in the Data Restoration and electronic discovery capital of the world, New York City. The new office – nearly twice the size of its predecessor – is located in the 110 William Street building within New York's Financial District. "With this move to 110 William Street, eMag is gaining an office identity that will reflect our strong presence in New York City in addition to accommodating our future growth plans," said Jeff Mayerson, Vice President of Sales.
In response to strong market demand for data restoration & recovery and computer forensics, eMag has vastly expanded over the past few years and as a result has currently outgrown its existing premises. The team of professionals that comprise eMag's New York City branch required a new space to deliver the utmost quality full lifecycle EDRM services. After decades of lucrative years in the city, this industry veteran took the endeavor into a larger and superior working environment. Located within the Financial District of Manhattan, the marvelous glass skyscraper located at 110 William Street came into existence in the summer of 1958.
Commenting on the move, New York City resident and Senior Tape Manager Ryszard Piziak said, "This is an exciting time to be a part of eMag Solutions. We were bursting at the seams in our previous office with very little room for expansion. I speak for the branch as a whole in saying we are delighted to have secured the new facilities on William Street. They are putting us in a great position for our increased market initiatives."
Please take note of the eMag NYC branch new contact information:
eMag Solutions, LLC
110 William Street, 11th Floor
New York, NY 10038
Telephone: 212-785-0979
Fax: 404-872-8247
About eMag Solutions, LLC
eMag Solutions, LLC is an international Patriarch Partners company headquartered in Atlanta, GA with additional data service centers in New York City, and the United Kingdom. eMag Solutions is dedicated to providing highly reliable data recovery, data management and eDiscovery services to corporations, government agencies, law firms and legal services providers. An industry pioneer for over four decades, eMag Solutions has an unmatched ability to process any data format from any source, on-site, in any jurisdiction around the globe. Learn more about our flexible solutions delivered via private or public cloud at http://www.emagsolutions.com
About Patriarch Partners, LLC
Patriarch Partners, LLC, is a private equity firm and holding company managing 75 companies across 14 industry sectors with revenues in excess of $8 billion. Founded by Lynn Tilton in 2000, Patriarch was built upon a proprietary patented financial model designed to manage and monetize the distressed portfolios of financial institutions. For more information, please visit: http://www.patriarchpartners.com.