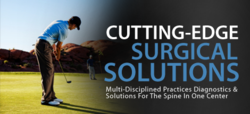 Houston, TX (PRWEB) June 04, 2013
The U.S. Spinal Surgery Market Outlook to 2017 was recently released and indicates that advanced technologies and an aging population will increase the demand for surgical interventions and treatments in the next few years. The cutting-edge procedures performed at Surgical Spine Solutions will be an important part of this future and will provide help for many patients seeking relief from acute or chronic neck and back pain problems.
The research study found that more than five million people in the U.S. experienced chronic back pain in 2011; in some cases, spinal conditions can create debilitating pain for patients and may result in reduced mobility and physical activity. Many of these patients can receive real help for their conditions through surgical treatments. Dr. Saqib Siddiqui and the staff at Surgical Spine Solutions in Houston, Texas, are at the forefront of medically advanced procedures that can provide relief from pain and added mobility for patients with serious spine disorders and injuries. The treatment options available to patients at this world-class facility include the following:

Percutaneous lumbar pedicle screws
Sacroiliac joint procedures
Cervical and lumbar artificial disc replacement
Anterior cervical discectomy
Posterior cervical foraminotomy
Laminectomy
Lumbar decompression
Dr. Siddiqui also performs the AxiaLIF procedure, an advanced and minimally invasive lumbar interbody fusion treatment system that reduces the likelihood of complications during and after surgery. The AxiaLIF system incorporates cutting-edge equipment and proven procedures that can reduce recovery times and lead to improved outcomes for surgical patients.
These traditional and minimally invasive spinal surgeries can release pressure on nerves and relieve pain to produce added mobility for many patients suffering from a range of spine conditions, including the following:
Slipped or herniated discs
Spine injuries
Spinal stenosis
Scoliosis
Degenerative disc disease
Arthritis of the spine
Spondylolisthesis
As the average age of the population continues to increase, these conditions are expected to become more common and to require advanced surgical and nonsurgical treatment plans.
As a leading surgeon in the field of minimally invasive spinal procedures, Dr. Saqib Siddiqui has helped numerous patients find solutions for their chronic back pain issues. The Surgical Spine Solutions facility in Houston, Texas, offers technologically advanced equipment in a warm and supportive environment. Minimally invasive spine surgeries reduce damage to surrounding tissues and allow for shorter recovery times; in many cases, patients can leave the facility more quickly after surgery and can recuperate in the comfort of their own homes. The projected increase in the need for these advanced surgical treatments will make Dr. Siddiqui and the team at Surgical Spine Solutions even more valuable as partners for patients in managing chronic and acute spine conditions.
About Surgical Spine Solutions
Under the leadership and guidance of award-winning spine surgeon Dr. Saqib Siddiqui, the experts on the Surgical Spine Solutions team deliver effective treatments for acute spine conditions and chronic neck and back pain. Patients receive the most advanced minimally invasive procedures and enjoy the shortest possible recovery times to allow them to get back to the activities they enjoy more quickly.