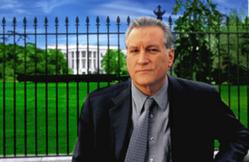 A rich archive of empowering stories and insight, Doug Wead is an acclaimed storyteller...'one of the best platform speakers in the world.'
(PRWEB) June 12, 2013
First Financial Security is proud to officially announce Doug Wead as the keynote speaker for its 2013 Leaders Convention, an annual event that attracts some of the top individuals in the financial services industry. At this year's 2013 Leaders Convention, Wead will be speaking in the world-class venue, Bally's Hotel & Casino, in Las Vegas. First Financial Security (FFS) values Wead's leadership and expertise in the marketing/PR sectors.
A rich archive of insight, Doug Wead is an acclaimed storyteller whose speeches have been requested in over 30 countries. In fact, Steve Siebold, renowned corporate speaking trainer for accounts like Toyota and Coldwell Banker, characterizes him as "one of the best platform speakers in the world." Among his credentials are titles such as Assistant to the President George W. H. Bush, Senior Advisor for Ron Paul, and Co-founder of Mercy Corps. Wead is also widely revered as a presidential historian, philanthropist, and New York Times best-selling author. His wealth of achievements has even sparked the attention of top media outlets, procuring interviews with Matt Lauer, Connie Chung, Katie Couric, Dan Rather, Bill O'Reilly, and several others.
Founded February 2006, First Financial Security, Inc. (FFS) has grown to be a leader in financial services designed to serve the wants and needs of Middle America. The FFS leadership team has deep roots in the financial services industry.
FFS offers people from all walks of life, the ability to "be in business for themselves, but not by themselves." By combining the world's most powerful industry with the world's most efficient Business Building System, FFS is uniquely positioned to achieve its Vision and Mission.
FFS is headquartered outside Atlanta in Norcross, Georgia and is led by President/CEO Phil Gerlicher. "Our mission is to lead the 21st century financial revolution. Our vision is to create wealth for families with our products, services and unique business opportunity."
Join the conversation and stay updated about the latest industry and FFS developments by visiting First Financial Security's Facebook Page and following First Financial Security on Twitter @FFSNews. Also, feel free to stop by the FFS YouTube Channel.
For more information, contact:
Phil Bransom
Media Director
First Financial Security, Inc
phil.bransom(at)firstfinancialsecurity(dot)com
503-452-6140 T
503-452-6141 F