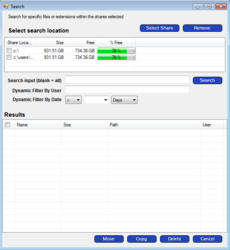 Very surprising how much duplicate file data we were storing. It has always been a concern, with the archiving option we moved this data to a low cost share.
Cindy S. - Alburn
Round Rock, TX (PRWEB) June 17, 2013
True File by Storworks Software now includes True Duplicate File search.
Perform a full scan and see the duplicate file list on the screen or a more extensive look in the full report.
The Duplicate file search will locate Duplicates by file name, or True Duplicates by Checksum to find unique files even with the same name.
Identify the duplicate files then perform one of several operations:

All from one share or combine multiple shares during a single search.
A full report also provides a cost savings based on an adjustable industry average cost per gigabyte if you were to remove the duplicate files or use single instance storage that de-duplicate at the block level.
"Set it and forget it."