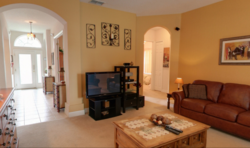 We had to change the way we thought about booking lodging accommodations before we got a truly great deal. Christin Careless
Orlando, FL (PRWEB) June 26, 2013
A customer of A+ Vacation Homes recently commented that a family's choice of accommodations can make or break the family vacation. Choose wisely and you have a vacation to remember for years to come; choose poorly and you could be stuck in a tiny, ill-kept, out-of-the-way hotel that looks nothing like the pictures you viewed online. A+ Vacation Homes understands how important the choice of a place to stay is to the success of the typical family vacation. That's why they want vacationers to stop thinking in terms of hotels and start considering luxury rental homes. According to owner, Jim Van de Laer, "luxury home rentals in Orlando are far more affordable than most people envision."
The typical traveler finds a place to stay on vacation by asking friends for ideas, checking the newspaper and magazine ads or by relying on the advice of his or her travel agent. Unlike virtually any other large purchase, consumers usually don't get to actually see the hotel room or condo before they purchase it. This can lead to a myriad of false expectations and disappointments. According to Van de Laer, "A+ Vacation Homes understands how the right Disney World home rental can turn your family vacation into memories that will last for decades." That's why they have a virtual catalog of rental homes that vacation planners can "walk" through at their leisure.
Some of the advantages to renting a luxury home, according to Van de Laer, include having space for everyone in the family to enjoy the things they like to do on vacation. The adults don't have to watch the kids movies over and over again or go to bed at 8pm when it's time for the kids to sleep. With a home rental, there's space for everyone to spread out. You also have access to a full kitchen and amenities like game rooms, Jacuzzis and private or semi-private pools, says Van de Laer, things you don't always get with a single hotel room.
Disney area rental homes can be economical, too. A five-bedroom Disney vacation rental home can be secured for around $1,50 per night and can accommodate 10 people. That's less than the price of an average hotel room with more room and more amenities. Plus, with a home rental, vacationers can save money on meals by making breakfasts and smaller family meals right in their own kitchen, a great advantage for large families who may not all want to eat at the same time.
A+ Vacation Homes offers rental homes throughout the greater Orlando area, from just outside the Disney gates to Kissimmee to Orlando proper. Says Van de Laer, "We don't try to offer homes all over the country. We sell what we know well and that's the Disney and Orlando area market." A+ Vacation Homes offers stand alone homes, villas and condos, something for every size family and budget, says Van de Laer.
About A+ Vacation Homes
Orlando-based A+ Vacation Homes offers a variety of three to seven-bedroom Orlando vacation home rentals, all of which are located between five and 15 minutes from the Disney parks. In business for more than seven years, the company specializes in matching the right home to customers' budgets, lifestyles and interests.
Reservations for A+ Vacation Homes can be made online 24 hours a day or by calling their reservation hot line at 866 655-9014 or 321-766-6455.
For more information, contact Jm Van de Laer at 866 766-9014 or 321 766-6455 or email aplusinfo(at)me(dot)com.