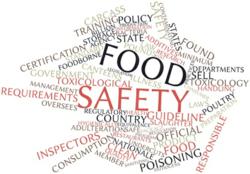 The current and proposed legislation are a step in the right direction, but need further refinement.
Buffalo, NY (PRWEB) June 20, 2013
Across the country, food allergy advocates are lobbying for new legislation that would require all restaurants to adopt allergy-friendly measures. These advocates believe such measures are necessary to make restaurants safer and more accessible to allergy sufferers.
A few years ago, this kind of legislation was almost entirely unheard of.
Massachusetts was the first state to spearhead the hypoallergenic restaurant movement when it passed the Food Allergy Awareness Act in 2010. Under this law, all restaurants in the state are now required to post allergy awareness information in their kitchens and to include a message on their menus asking customers to inform staff of their allergies. Additionally, at least one restaurant employee must view a 30-minute training video on allergy-safe food preparation.
Brian Brault, CEO of PURE Solutions, a company that installs allergy-friendly hotel rooms, expressed enthusiasm for this legislation.
"It is important for restaurants to recognize the importance of accommodating and protecting people with allergies," he said. "Allergies are a serious medical condition that affect millions of people in the United States and those of us in the hospitality industry need to work to ensure their safety and comfort."
It seems lawmakers agree. Maryland and Rhode Island are both currently considering laws modeled on the Massachusetts act that also make further, more rigorous provisions. Rhode Island, for example, may mandate that restaurants employ a "food protection manager" who is trained and certified on food allergies, menu items, lists of ingredients and special food preparation procedures that prevent cross-contamination.
Paul Antico, Founder and CEO of AllergyEats, also believes laws to protect allergy sufferers need to be more stringent and comprehensive.
"The current and proposed legislation are a step in the right direction, but need further refinement," Antico said. "For instance, new laws should require more than just one employee per restaurant be trained in food allergy procedures, and should mandate that one food allergy-trained manager must be on-site at all times."
"Additionally, restaurants' food allergy training should be more extensive than watching a 30-minute video," he added.
Antico maintains that these measures would not be overly expensive or burdensome for restaurants, since training, conferences and webinars are now widely available on these topics. Other states such as Hawaii, New Hampshire and Minnesota have also been proactive in addressing food allergy concerns and seem likely to consider hypoallergenic restaurant standards sometime in the future.
About PURE Solutions NA
PURE is a company who offers innovative, safe hypoallergenic products at home or on the go. Aside from providing safe purifying technologies for the home as well as PURE Rooms in partner hotels around the world, PURE is also working to bring their innovations to schools, offices and other establishments worldwide. PURE Solutions' innovative system for indoor environments provides allergy-friendly rooms which offer a clean haven that have been treated to remove 98-100% of bacteria and viruses. The PURE room processes utilize state-of-the-art purification techniques whereby each room is treated comprehensively to remove allergens and irritants from all surfaces, fabrics and air flow. Over 300 of the nation's top hotels have installed PURE to date and this system is being adopted at a rapid rate by hotels worldwide. Pure Solutions received the 2008 Innovator Award from The School of Hotel Administration at Cornell University. For further information, see http://www.pureroom.com.