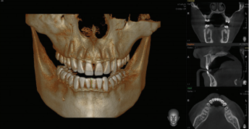 "We've invested in technology that's convenient for our patients," said Dr. Jonathan Penchas, owner of Midtown Dentistry. "But at the same time, our new technology will actually enable us to give them much better dental care."
Houston, TX (PRWEB) June 04, 2013
Midtown Dentistry is pleased to announce the purchase of the Pax-i3D (Pax) from Vatech, a leading provider of digital dental radiography products.
The Pax is a new diagnostic x-ray machine that allows for maximum efficiency in taking x-rays for patients. Using multiple types of camera and advanced visualization software, the Pax enables us to give patients the best diagnosis for treatments ranging from regular checkups to complex surgeries. The wide range of functions combined with its utility gives it a definite advantage over standard x-ray machines. "We've invested in technology that's convenient for our patients," said Dr. Jonathan Penchas, owner of Midtown Dentistry. "But at the same time, our new technology will actually enable us to give them much better dental care."
Dr. Penchas commented, "The capabilities of the Pax will help us serve any range of patients for all their dental needs." The different cameras each have their own sensors with the ability to take both regular 2D x-rays and advanced 3D x-rays. They are capable of lateral imaging that covers the whole jaw to x-rays focused on minute areas of interest. Magic Pan Technology in the cameras increases image clarity, disposing of blurs or distortions caused by patient movement to ensure high quality x-rays. With these high quality x-rays, the patients can receive an optimal inspection of their teeth that leaves no detail unchecked.
Multiple image types can also be taken, depending on whether an x-ray of a general region is needed, or one of a specific area. The smallest image can capture details down to the patient's root canals, and the largest image can capture the whole mouth from top to bottom. If multiple image types are needed, the patient is able to take them all at once, thanks to full camera rotation featured on the Pax. This is a much more efficient process than having to constantly shift to different positions on a normal x-ray machine. With the Pax's full range of motion, all x-rays can be taken at once in a safe and comfortable environment, maximizing efficiency with precision.
Cephalometric "one shot" capabilities working with the built-in sensor systems of the Pax also help reduce patient x-ray exposure to a minimum, making it one of the most eco- and patient-friendly diagnostic x-ray machines around.
Advanced visualization software allows us to thoroughly examine our patients' x-rays so that every part of their mouths are methodically inspected to the smallest detail. The software also features implant simulations, full zoom and rotation inspection of x-rays, and can create 3D simulations.
"This allows us to plan out potential treatment to see which course of action is best for the patient," said Dr. Penchas.
Midtown Dentistry is a four-doctor specialty cosmetic, restorative, and general dentistry practice located at 315 Westheimer Road in Houston, Texas. Dr. Jonathan Penchas is a Prosthodontist - an expert dentist who specializes in cosmetic restoration and replacement of teeth. Prosthodontists restore optimum appearance and function to a patient's smile. According to the American Dental Association, while there are 170,000 general dentists nationally, fewer than 2% are Prosthodontists - only 3,200. Prosthodontics is the only dental specialty under which the concentration of cosmetic/esthetic dentistry falls.
After completing his D.M.D. at Hebrew University in Jerusalem, Dr. Penchas received post-doctoral training in Prosthodontics at LSU, and a Master's Degree in Education at the University of New Orleans. He then completed a fellowship in Dental Oncology (cancer dentistry) and Maxillofacial Prosthetics at M.D. Anderson Cancer Center. Dr. Penchas is an expert witness, and has served as a Prosthodontics Professor at the University of Texas, and dental licensing examiner for the Western Regional Examining Board. Dr. Penchas is the author of the "Dentistry Made Simple" books: "Everything You Need to Know about Dentures Made Simple," and "Dental Implants Made Simple."