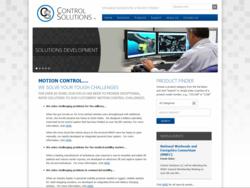 We are very happy with our new website, Idea did a great job.
(PRWEB) June 03, 2013
Control Solutions has launched their new website that was designed and developed by Idea Marketing Group. Control Solutions is a high-technology engineering and manufacturing firm that develops motion control solutions for customers in the commercial and defense markets. Control Solutions was looking to overhaul their existing website and replace it with a clean, modern, intuitive website that offered greater flexibility on the backend as part of their 2013 marketing initiatives.
"My name is Doug Hitchcock, the marketing new business manager at Control Solutions LLC. Our company has had great success in rapid development of motion control solutions for our base of customers, but we need to grow our brand and company awareness into new markets. Our current web site was not optimized for search engine hits and was difficult to navigate through our served markets and multiple product offerings."
Idea delivered a modern look that clearly conveys their service mixed with techniques search engines prefer. In addition to creating the right look, the website was built to serve as an informative resource for customers, offering information about product lines including multiple, detailed specification guides and interactive product photos. The new website is built using the Wordpress platform as a foundation allowing department heads to manage content with ease.
With a graphic overhaul and increased efforts on search engine optimization, the website provides a professional and smooth experience for visitors and backend users. The enhanced content and increased presence of the website will generate more leads and ultimately increase business. Control Solutions marketing communications specialist, Dominic Charmelo, said, "Idea Marketing Group established a plan and executed it in a matter of weeks. We didn't have to wait long to start seeing results, we are happy to have worked with Idea Marketing Group to revamp our website."
To view the new Control Solutions website, visit http://www.controls.com.