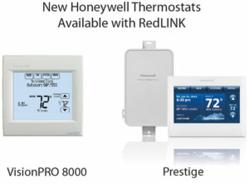 INDIANAPOLIS, IN (PRWEB) June 06, 2013
Jackson Systems is pleased to announce the addition of the newly redesigned Prestige® and VisionPRO® thermostats. Both of these thermostats are RedLINK® capable, giving homeowners access to control their heating and cooling systems via the Internet from anywhere in the world.
The new Prestige is 60% smaller than the Prestige 2.0 and available in 4 colors. Delta T alerts and diagnostics inform customers when their system is not operating as expected. The user interaction log provides a searchable history of setting changes. Assignable outputs for indoor air quality allow the thermostat to control humidification, dehumidification and other IAQ equipment. Customizable service reminders allow the contractor to schedule alerts for routine maintenance on the HVAC system. A USB port on the thermostat allows for quick set-up and programming. The new Prestige will even allow the user to change the background color on the screen to match nearly any décor.
The new VisionPRO from Honeywell can be powered by batteries, hard-wired or powered by the equipment. This 7-day programmable thermostat features a micro SD port and plain language programming for easy installer set-up. The new VisionPRO works with the RedLINK Internet Gateway and can use all of the same accessories as the Prestige. Perfect for residential or light commercial use, this attractive, touchscreen thermostat is priced right for any budget.
Jackson Systems is excited about the opportunities this new offering affords their clients. With homeowners demanding "smart" products for their homes, the new Honeywell Prestige and VisionPRO thermostats offer contractors additional options to fill their customers' needs.
###
About Jackson Systems:
Jackson Systems is the leading direct-to-contractor HVAC controls manufacturer and a major distributor of other leading control brands. Founded in 1997, Jackson Systems today is one of the fastest growing companies in the Midwest, serving customers worldwide.
Jackson Systems sets the standard for excellent service and support teams to help our customers achieve greater profits. Our quality, contractor-friendly control products paired with free, same-day shipping make Jackson Systems your direct choice for controls. For formal quotes, design assistance or additional information, visit http://www.jacksonsystems.com or call 888-652-9663.