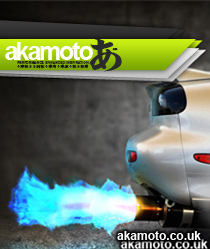 Fast and Furious 6 shops at Akamoto
(PRWEB UK) 3 June 2013
Akamoto are a supplier of engine enhancements and car modifications to car owners across the world. Known for their Akamoto nitrous kits and alloy wheels, they are popular with those looking for a boost.
Their customers are all passionate about their cars and constantly check for new developments in technology to make their vehicles faster, louder, and better than ever. Understanding their customers fervent for fuel, Akamoto have now rolled out a free service to say thank you for popping by.
Every visitor can now benefit from the custom-made desktop downloads that show the best, most famous cars in all their glory. For those who follow the advancements of Lamborghini and Ferrari and adore the sleek lines and speed of any sports car, this is a gift worth having.
All customers have to do is see which desktops they like best from a selection of:
Mazda
Subaru
Nissan
Porsche
Or even the Akamoto logo.
Every desktop has been created by a leading designer using clever CGI techniques and ground breaking photography to add the illusion of speed, exhaust flames and smoke. With this week's launch of The Fast and Furious 6, this free giveaway could not have come at a better time.
Downloading a desktop could not be easier as Akamoto have ensured these fit any PC with a range of sizes suited to taste and specification of the screen.
Visitors select their screen resolution and click to download; selecting the "save target as" option to ensure it downloads direct to the hard drive. Then select the display properties from the control panel and add the image as the new desktop.
Andrew Brown the founder of Akamoto says, "Our customers don't just like cars, they LOVE them. Many can't get enough and that's why we've brought them original images for free to download as a desktop. That way even when working they can see their favourite wheels in action."
Akamoto are a leading supplier of nitrous kits, performance exhausts, alloy wheel and dump valves. They constantly update their stock to include the latest technological advancements such as exhaust flames. They source and supply everything a discerning driver needs to modify their car for less.