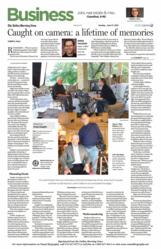 What would it be worth to you to have a letter of love and affirmation from your Dad?
Dallas, TX (PRWEB) June 05, 2013
Father's Day is the traditional time for Dads to be honored. They receive cards and gifts, and are generally esteemed for their role as father and husband. Grace Products, through their projects, "Letters from Dad" and "The Visual Biography Co." are encouraging Dads to give a little twist to the traditions. Instead of being a day where Dads are just "given" something, they encourage them to "give" back. Specifically, Dads are challenged to write a letter of love, affirmation and blessing to their children and wife.
Greg Vaughn, president of Grace Products, often asks men: "What would it be worth to you to have a letter of affirmation and blessing from your Dad?" The answer is always the same, "priceless". Vaughn has found that only about 3% of men have such a letter. Few have one, all want one, but only a rare few accomplish the task. Men want to leave a legacy, they want to be remembered. They want to encourage and inspire their families, but they lack the confidence and tools to do it. Below are three simple steps to help them get started.
1. When given a card or gift respond with words of affirmation and love. Don't just say Thank You. Think about the individual giving the gift. What's special about them? How are they a blessing to you? Tell them you appreciate their thoughtfulness.
2. Before Father's Day write three things you love and want to affirm in each of your children. No need to write a novel, just a few words to let them know you really care about them, appreciate them, and will always be there for them. Hand that letter to them when you are given your card or gift. Even if they don't give you something, be sure they get the letter.
3. Take a moment to also write three things you love and want to affirm in you wife. She is, after all, the one who gave you the opportunity to even be a Dad. Yes, she has her own day, but there is no better time to affirm her and let her know she is vitally important to your fatherhood.
A recent Father's Day article in the Dallas Morning News(Caught on Camera, June 17, 2012) helps explain Greg Vaughn's desire to help people build a lasting legacy.
It is often said that letter writing is a "lost art". Emails, texting, instant messaging and even Skype and Face Time have replaced the old fashioned hand written letter. Most men claim they can't write. Poor handwriting, spelling, grammar and just plain not knowing what to say are a few of the excuses. But ask him about his favorite ball team or the last fishing trip and he'll talk for an hour. Face it, men do what they really want to do. "Letters from Dad" and http://www.visualbiography.net/index.php?page=video_gallery&video=Visual Bio Sampler-H.264 300Kbps.mov ["The Visual Biography Co." __title__ Video Biography] continues to encourage men to build a lasting legacy through the spoken and written word. Modern technology has now also opened up other multi-media avenues. To find out more about how to preserve your legacy or for someone you love go to http://www.visualbiography.net or call 800-527-4014.