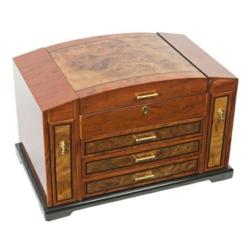 We are proud to offer handcrafted storage boxes for today's quality-concious shoppers
Mechanicsville, VA (PRWEB) June 06, 2013
"If you own valuable jewelry and heirlooms then it makes good sense to store them in wooden jewelry boxes in keeping with their importance to you," says Noelle Price.
Price is a managing partner for Chasing Treasure, an online firm specializing in retail sales of jewelry storage boxes and watch winders. Based in Virginia, Chasing Treasure offers several hundred jewelry boxes ranging from small travel jewelry organizers to floor standing jewelry armoires.
"A great way to store heirlooms, keepsakes and valuable jewelry is in high quality wooden jewelry boxes," said Price. "People have been doing this for hundreds of years and we are proud to be able to offer handcrafted storage boxes for today's quality-conscious shoppers," she added.
Price pointed to a wood jewelry box manufactured by Luxury Giftware by Jere on the ChasingTreasure.com website. The box is made from bubinga, an exotic wood from West Africa, with elm burl inlay and has necklace swing outs with a shirred pocket in the lid in addition to three pull out drawers and two swing-out doors with pouches and hooks.
"We are now offering jewelry boxes like this with great savings for gift shoppers," Price said. She noted that all of the prices in her firm's online catalog are well below manufacturer list prices and that during gift occasions such as Graduation and Father's Day, there are even deeper discounts.
With Father's Day in mind, she called attention to the watch winders offered on the Chasing Treasure website. Watch winders are storage cases powered by batteries or ac adapters and provide the gentle motion that keeps self-winding watches ready to use at any moment. The watch winders on the Chasing Treasure site range in price from $280 and go up to $5000 for a winder that stores 12 watches.
"Web visitors to our site should take advantage of special Father's Day prices that will apply to our wooden jewelry boxes, watch boxes and watch winders. Plus an optional personalized name plate is available with all our boxes and winders," Price concluded.