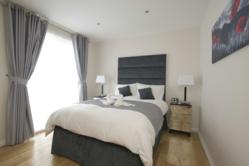 London (PRWEB UK) 4 June 2013
With the arrival of the summer comes a generous serving of entertainment in the capital and nothing compares to the month of June. Stay with Chelsea Bridge Apartments and join in the Queen's birthday celebrations, the Wimbledon Tennis Championship, visit Royal Ascot, watch Polo in the Park and Great Britain Row, enjoy London Jewellery week and so much more.
Every week of June has something different to offer - ranging from free art exhibitions to traditional and cultural British events, to festivals and concerts with world famous artists stepping on the stage. These include performers like Robbie Williams, Rihanna, Maroon 5 and Kings of Leon.
Moreover, 'Sex And The City' star Kim Cattrall, will star as a fading Hollywood legend alongside acclaimed Broadway actor Seth Numrich in Tennessee Williams's "Sweet Bird of Youth" at the Old Vic Theatre, which is only ten minutes away from the apartments.
If planning to attend any of these remarkable events and looking for an accommodation in London city – look no further. Chelsea Bridge Apartments is the perfect solution for everyone coming to London seeking an overnight stay.
Chelsea Bridge Apartments provides modern luxurious serviced apartments, all of which have been recently refurbished to a very high standard, and offers all the luxury and comfort of a top quality 5* hotel. Whether you are looking to stay for just a few days or a week, a serviced apartment allows you the space and facilities of your own place, and is an ideal solution for holiday makers or corporate travel clientele.
Highlight your London experience by staying at one of the luxurious Chelsea Bridge Apartments located a few minutes away from fashionable Chelsea and within easy reach to Central London and all it has to offer. All this plus so much more in a wonderful building situated close to the banks of the River Thames. The apartments are a unique blend of central London excitement, in the tranquil scenic setting of the infamous Battersea park and its many events.
Receive 20 % off the booking when booking directly with Chelsea Bridge Apartments and staying anytime between 01/05/2012 – 30/06/2013. Use 20OFF promotional code when making a booking.