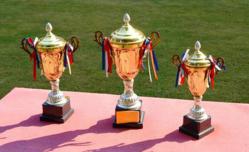 We are especially proud of our agents and our company today.
New City, NY (PRWEB) June 24, 2013
Matt Rand, Managing Partner of Better Homes and Gardens Rand Realty, revealed the results of the REAL Trends 500 report to his real estate firm today. According to this report, produced by the Denver-based real estate research firm, REAL Trends, Inc., the 500 largest residential real estate brokerage firms in the nation controlled just over 2 million residential sales transactions in 2012. The transactions represent close to 29.8 percent of all new and resale transactions completed by brokers during the year. The 500 mega-brokers depicted in the report closed 2,290,269 home transactions representing a combined value of over $624 billion during 2012.
"We are especially proud of our agents and our company today. The 2013 REAL Trends 500 report shows Better Homes and Gardens Rand Realty ranked as the 88th largest real estate firm in the United States by sales volume," explained Rand. "For a family-owned and operated NY real estate company to achieve that today is a very big accomplishment; and it is even more impressive when you consider that the 500 companies listed in the REAL Trends 500 report only represent less than three-fifths of one percent of all real estate brokerage firms in the US."
The 2013 REAL Trends 500 is a compilation of a nationwide study of leading residential real estate companies conducted by REAL Trends, a trusted resource for useful and timely information used throughout the real estate industry. According to REAL Trend, Inc., this year's survey represents the most comprehensive collection of data assembled on the leaders of the residential brokerage industry; the numbers used to calculate results are documented by outside accounting firms.
"The recovery in housing sales was reflected in the results from the REAL Trends 500," said REAL Trends editor Steve Murray in a recent REAL Trends press release. "There were a record number of firms that closed more than $1 billion in sales and over 1,000 units. Unit sales were up 15.3 percent overall and total sales volume was up 20.7 percent. There were over 1,300 firms that qualified for either the REAL Trends 500 or the Up and Comer list. Many of the firms that had increased unit sales accomplished this through organic growth while merger activity remained slower than in years past. We expect acquisition activity to pick up, however, in the years to come as the market consolidates."
NRT, Inc. led the REAL Trends 500 as the largest residential brokerage company in the country. The firm, which owns 712 residential real estate offices across the United Sates, closed 289,614 transactions in 2012. Owned by real estate giant, Realogy, NRT acquires residential real estate brokerage firms throughout the United States and operates them as affiliates of Coldwell Banker Real Estate Corporation and ERA Franchise Systems, Inc.
About REAL Trends, Inc.
REAL Trends, Inc. is a 27 year old research, publishing and communication company located in Denver, CO serving the information needs of the residential real estate industry. REAL Trends provides real estate professionals with new and innovative resources on the latest industry trends and strategies for the future.
About Better Homes and Gardens Rand Realty
Better Homes and Gardens Real Estate - Rand Realty, founded in 1984, is the No. 1 real estate brokerage in the Greater Hudson Valley with over 25 offices serving Westchester, Rockland, Orange, Putnam and Dutchess counties in New York and Bergen and Passaic counties in New Jersey. Rand has more than 800 residential real estate sales associates, as well as a commercial real estate company (Rand Commercial Services), and the Hudson United Group providing residential mortgage lending, title services, and commercial and residential insurance. The companies can be found on the Internet at: http://www.randrealty.com, http://www.randcommercial.com, and http://www.hudsonunited.com. Rand Realty is also on Facebook and Twitter.