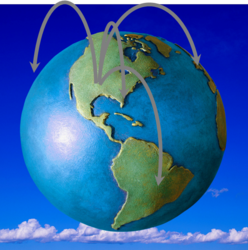 We are sincerely pleased to offer STORM as a great value for our Windows Azure customers for their growing volumes of large-volume file transfers.
- Katsura Ito, Microsoft
Tokyo, Japan and Redmond, WA (PRWEB) June 03, 2013
STORM, the Managed File Transfer protocol developed for use at the Vancouver and London Olympics for Japan's largest broadcasting networks is now available to customers of Microsoft's Windows Azure Store as an app service after a successful US launch at the NAB 2013 Broadcaster's conference in April in Las Vegas.
As a proven UDP protocol for the two-way transfer of large data files, STORM provides a number of advantages and benefits for the industries utilizing the Cloud for storing and moving large amounts of data at high speeds at a significantly lower cost.
Users of the Windows Azure Store, especially those using features like Networking, Media Services, "Big Compute" or Data Management will find STORM an indispensable match to the services they already use in Windows Azure that includes the following advantages:

Maximization of available bandwidth regardless of connection type.
Reduced vulnerability to packet loss, delays and jitters.
Simultaneous packet transfers to multiple locations.
Configurable encryption and security protocols to optimize bandwidth use.
Operates independently from your network environment.
SIMPLE drag and drop operation.
New users will enjoy entry-level pricing at nearly 50% below the cost of other existing services and others that already move large amounts of data will find STORM priced up to 25% less than any of their current providers.
Katsura Ito of Microsoft's Japan office shared that "We are sincerely pleased to offer UNIXON's STORM application for our Windows Azure customers. STORM is a great value for the growing volumes of large-volume file transfers and will be part of a simple, fast and stable operation for Windows Azure customers globally and in many industries."
While originally developed for the rigors of Olympic broadcasting, STORM is now available for other industries where large data file transfers are required quickly and frequently:
Global Financial Services Businesses
Medical Imaging and other Healthcare applications
Media companies including creative and digital agencies
Data management, Analytics and "Big Data" applications
Game Software Development
Film & Cinema Distribution
Technical details, contact info and access to a free trial are now available at http://www.FastStorm.com.