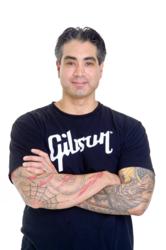 "From your first lesson, I will have you playing. And, I will inspire you to keep on playing. The guitar is not an easy instrument to play; but if you aspire to be an accomplished player; I can get you there."
Fort Lauderdale, FL (PRWEB) June 03, 2013
It's that time of year once again: another school year is coming to an end and summer vacation begins yet again. It means a couple months of complete freedom, yet at the same time, some may find themselves bored and questioning how to spend their days. Summer break can be an ideal time for students to pursue an activity or hobby they've always wanted to try, or even learn something new. One terrific way to spend those summer afternoons is to learn how to play a new instrument—or better yet, how to play the guitar.
Fort Lauderdale guitar teacher, Dyce Kimura, is offering new customers a promotional discount of 15 percent off their first guitar lesson. Students can actually make their way back to the classroom, but not in the traditional sense. Students with a passion for music and a desire to learn can learn how to play the guitar just like their favorite musician.
Kimura teaches teenagers and children as young as five years of age. He also offers Fort Lauderdale guitar lessons for adults, so even teachers and parents with some downtime this summer can take advantage of Kimura's offer of 15 percent off the first lesson.
Because the Fort Lauderdale guitar lessons offered by Kimura are uniquely personalized for each individual and every lesson is one-on-one, customers can ensure they get the most out of each lesson.
One of the key elements that keep people from reaching their musical potential is time. For many folks, especially busy students, it can be hard to carve out the time and dedication that is needed in mastering a new skill. Normally, finding this time can be difficult, but what better time than during an extended break from school? The summer months are usually a time of fewer responsibilities and instead, are a time for leisurely activities. Starting guitar lessons during the summer, as opposed to a busier time of the year, can mean the difference of just wishing to play on a certain level and actually being able to achieve this goal.
Dyce Kimura is not only a Fort Lauderdale guitar teacher, but he also offers lessons in other parts of Broward County, including Parkland and Weston areas.
With guitar lessons from Dyce Kimura, students can return to school at the end of their summer break feeling like a rock star. For new customers looking to save 15 percent off their first guitar lesson this summer, be sure to mention this article.