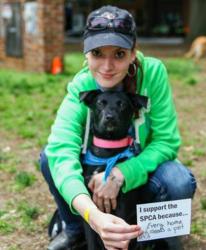 When Foundation Financial helps people stay in their homes, we are helping families stay together - all the way down to the four-legged members.
Raleigh, North Carolina (PRWEB) June 04, 2013
Foundation Financial Group employees from the company's Raleigh Regional Sales Center, located at 701 Exposition Place #2, participated in the 14th Annual K9-3K Dog Walk to support the Society for the Prevention of Cruelty to Animals. The financial services corporation also made a significant monetary contribution to the SPCA, which seeks to find forever homes for displaced animals.
"I had a great time walking the K9-3K with my FFG family- especially the furry ones," said Foundation Financial Group Event Coordinator Jessica Byers. "I hope other corporations realize that a dedicated group of people can give back to their community and grow their business simultaneously. When Foundation Financial helps people stay in their homes, we are helping families stay together - all the way down to the four-legged members. I want people to see that we are a financial institution made up of community members with genuine concern for our entire community. FFG isn't looking to make an easy buck; we are looking to make a difference."
Foundation Financial Group employees and their pets joined over 3,000 participants and walked Raleigh's downtown streets in support of the homeless pets cause. The 2013 theme for the annual dog walk was "No Place Like Home" from "The Wizard of Oz." Pet owners shared a 'dogs-will-be-dogs' attitude about the excited behavior among the estimated 1,000 participating canines. Walkers with dogs that had health problems preventing participation in the K9-3K were invited to show their support by walking in the Senior Dog ½K instead.
"Every time I have adopted an animal, I think about the animals I didn't take home, the ones waiting behind kennel bars for a family that may never come," continued Byers, who has been welcoming rescue animals into her family for over a decade. "I walked for them. I walked so that no animal is sent to death row because an irresponsible human couldn't be bothered to spay or neuter their pet. Animals don't have a voice. They need organizations like the SPCA, which actively defends abandoned and neglected animals every single day."
The SPCA is dedicated to creating a more humane community - one where every adoptable animal can have a loving home of their own. Each year the SPCA "rehomes" over 3,000 animals through its innovative lost and found efforts and adoption programs. Founded in Raleigh in 1967, the SPCA of Wake County is a no-kill organization that helps over 17,000 pets in need each year across 33 North Carolina counties. The SPCA of Wake County is a local, grassroots animal charity; they do not receive any funding from national animal organizations.
For more information about the SPCA, please visit spcawake.org
About Foundation Financial Group
Foundation Financial Group is a multibillion dollar financial services corporation. FFG offers its customers Best in Class service through its insurance, retirement and mortgage services. Named one of the fastest growing financial companies in the country by INC magazine, FFG has continued to grow its nationwide presence with over 100,000 new customers per year in 39 states. In addition to the value that Foundation Financial provides every customer, it is also dedicated to its communities and the people who live in them. Through a vast array of philanthropic endeavors, the company not only provides significant monetary donations but also fosters a workforce environment that encourages all team members to personally make a difference. Foundation Financial is committed to its strong focus on customer service and community investment as it continues to grow and compete with the largest financial institutions in the world.
Foundation Financial Group reviews all public relations inquiries. For additional information, interview and image requests, contact the Foundation Financial Group Public Relations team.