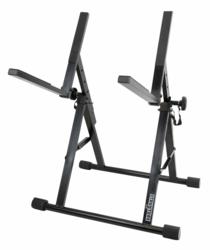 Petaluma, CA (PRWEB) June 25, 2013
Strukture welcomes the arrival of the all new SAS1 Amp Stand, crafted from heavy duty steel and designed for optimal strength and durability. The SAS1 Amp Stand features a 2-point locking system, consisting of heavy duty threaded knobs and steel locking pins to ensure maximum strength. Folding arms on each stand feature non-slip padding, to cradle the amp at a stable, sonically optimized angle. SAS1 Amp Stands also include rubber feet to easily adjust to uneven surfaces, to provide peace of mind on stage or in the studio. The entire base folds flat for convenient storage and transportation, making these stands an ideal solution for musicians on the go. The steel frame of the SAS1 supports up to 120 lbs, so heavier amps can be accommodated safely and securely. The Strukture SAS1 is the ideal amp stand solution for every musician.
Strukture is a premier manufacturer of music accessories including cables, music stands, keyboard stands, guitar stands and parts. Strukture is dedicated to designing products that fulfill the needs of all musicians, from students to professional touring artists.
For more information, please visit us online at http://www.strukturemusic.com.