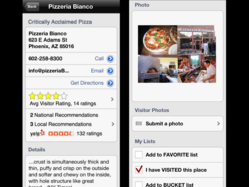 Top Pizza Places will be the first published food review aggregator app of its kind on the market.
Reston, VA (PRWEB) June 05, 2013
Top Pizza Places, an iPhone app that aggregates published reviews of pizza restaurants to help consumers choose where to eat, today announced the launch of a Indiegogo campaign to help fund its development. The month-long campaign aims to raise $5,000 to help pay for database creation, programming, hosting, and marketing.
"Top Pizza Places will be the first published food review aggregator app of its kind on the market," says Mike Pilon, founder of MapMuse, the company behind Top Pizza Places. "When people want to find good pizza that's been given the stamp of approval by trusted, impartial food critics, we're hoping they'll turn to us." If the Indiegogo campaign is successful, MapMuse's staff will scour hundreds of national, regional, and local newspapers, as well as magazines and reputable bogs, for pizza reviews. An overwhelmingly positive review qualifies the restaurant for a spot in the app.
Structurally, Top Pizza Paces will be built on an interactive map pinned with locations of qualifying pizza places. Each restaurant will have a detailed profile that supplies users with review excerpts, contact information, web links, and photos. The app will take full advantage of mobile capabilities, including GPS navigation and a one-touch dialing feature that enables users to make reservations from their iPhone. "Our goal is to make it as easy as possible for hungry people to find great pizza," says Pilon with a smile.
The greatest obstacle to the app's development lies in developing its massive database. In addition to aggregating thousands of reviews from food critics, MapMuse will be culling granular data such as oven type, cooking temperature, and pizza styles for each restaurant. Users will be able to search the map for restaurants serving the exact type of pie they're hungry for. Although gathering the data is a giant, highly nuanced task, MapMuse is confident in its ability to achieve success. "Data is what we do," says Pilon. "Eating great pizza comes in a close second."
MapMuse is an internet and app development company based in Reston, Virginia. They've developed dozens of data-driven mobile apps over the past half-decade, and are confident in their ability to deliver Top Pizza Places to the satisfaction of their Indiegogo backers. To donate or learn more about the app, please visit their Indiegogo information page.