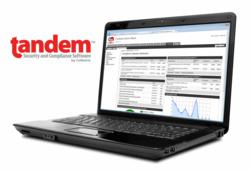 Lubbock, TX (PRWEB) June 04, 2013
CoNetrix is pleased to announce the release of tandem Compliance Calendar Pro. A module in their tandem Security and Compliance online software suite, the tandem Compliance Calendar Pro is intended to help financial institutions identify, schedule and track important dates impacting bank and credit union regulatory requirements including reporting, audits, training, operations, and compliance.
tandem Compliance Calendar Pro is the next level up from the basic tandem Compliance Calendar that is being offered as a complimentary service to financial institutions. Some of the features offered in the basic tandem Compliance Calendar include: a dashboard overview displaying upcoming events, past due events, proposed events, and year at a glance; a calendar view for visually managing events; an event scheduler to see, schedule, and track repeating requirements; event categories to sort and filter events; email notifications and reminders for tasks and events; and a list of recommended recurring events.
In addition to the basic features available in the complimentary Compliance Calendar, the premium version offers: downloadable documents in editable Microsoft format; customizable categories in addition to the CoNetrix suggested event categories; file attachment capabilities for storing event results and reports; task functionality for assigning multiple recurring tasks; the ability to export events to Outlook/iCal; and an optional role with read-only access.
About tandem Security and Compliance Software: tandem was the first comprehensive online Information Security Program software solution designed to help financial institutions create and maintain a complete program to comply with GLBA and the Interagency Guidelines Establishing Information Security Standards. While tandem was designed as a complete solution from the ground up, it was fashioned into modules which allow for versatility. The modules include risk assessment, policies, vendor management, business continuity plan, identity theft prevention program, internet banking security program, and compliance calendar. Today, tandem serves more than 600 financial institutions, with over 11,000 active users in over 45 states.
About CoNetrix: CoNetrix is a full-service technology consulting, security and compliance firm with roots dating back to 1977. Founded in Lubbock, Texas, CoNetrix now serves customers across the U.S., providing a variety of technology and security solutions, including online security and compliance software, IT audits, security vulnerability testing, risk management, technology consulting, cloud hosting, and managed services. Security is designed into all of its offerings, from its software to its consulting services. CoNetrix specifically serves financial institutions – such as banks, savings associations, credit unions, and trust companies – as well as enterprises requiring a high level of security in their operations.