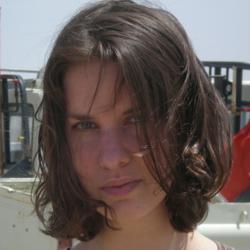 "Mining and incarceration are both looming presences on the West Virginia landscape—both willfully obscured and misrepresented, their growth slopes neatly inverted," Jamison wrote.
(PRWEB) June 06, 2013
"The thing that I love about the essay as a form is that it's so capacious," said Leslie Jamison, who teaches in the low-residency MFA in Fiction and Nonfiction program at Southern New Hampshire University, and who is building a reputation as one of our contemporary masters of the genre.
"You can start out writing about one thing," she said, "but then something else intrudes, but that's okay, because the essay form can turn around and absorb it."
Take, for example, "Fog Count," published last month in the Oxford American and to be included in "The Empathy Exams," a collection of Jamison essays forthcoming in 2014 from Graywolf Press and—in the United Kingdom—from Granta UK.
Last year, the author drove from her home in New Haven to Fayetteville, West Virginia. She stayed the night with friends in that town before going on to a federal prison in Beaver, where she would visit an inmate named Charlie Engle.
Engle had been a famed ultra-marathon runner, a man she met casually at one such race in Tennessee in 2009. A few months later, Engle was convicted—unjustly, Jamison believes, after looking into the case—of twelve counts of mail, bank, and wire fraud. They had corresponded and spoken on the phone. Now she was going down to see the place. "I wanted to know: what happens when you confine a man whose whole life is motion?" she wrote in "Fog Count."
As she drove into coal country, she was captivated by the state's beauty: "endless lush forests, pristine and unblemished, countless shades of green on hills layered back into drifts of fog." Then her Fayetteville friends told her the truth—those green hills are just thin curtains masking the strip mines, concealing ravaged moonscapes kept just far enough away from the highways. "Potemkin forests!" Jamison thought. "I feel like an idiot."
Jamison's interview with Engle—and the whole experience of the prison—is harrowing, partly because her friend has been deprived of not just motion, but also dignity and respect; and partly because her presence there is so guilt-haunted. She wrote that her interest "betrayed the privilege of my freedom: life in here is novelty to me; for Charlie it's a day-in, day-out reality."
She had come to write about the experience of imprisonment, about the paradox of an ultra-runner chained to one small place, but she found those lush Potemkin forests intruding as well. In the essay form she was able to discover that one subject illuminated the other.
"Mining and incarceration are both looming presences on the West Virginia landscape—both willfully obscured and misrepresented, their growth slopes neatly inverted," she wrote. "Mining is an industry in decline; incarceration is on the rise. The number of inmates in West Virginia has quadrupled since 1990. People with political influence and powerful economic interests allow the state to be exploited by new industries in order to repair the damage the old industries have caused."
To Jamison, Engle is less a criminal than a badly advised victim of the sub-prime mortgage bubble. "His story is the story of a system that strip-mined the American housing market and peeled away whatever it could, leaving the economy on stilts—land on stilts, subprime hollowed earth—and balancing an impossible future on dreams and greed."
Both are systemic tragedies in which only the powerless are punished. The essay packs an emotional punch multiplied by its capaciousness, and becomes even more powerful if read in tandem with an essay not written by Jamison, but edited: "Diary Excerpt," published in the winter issue of the Mississippi Review and written by Joe Dole, an inmate in solitary confinement at a maximum-security prison in Illinois.
Jamison herself wrote "Saudades" in that issue of the Mississippi Review, an essay that starts out with the death of her grandfather as subject matter, and ends up being mostly about her brother. "What makes her essays so consistently fascinating," says novelist Diane Les Becquets, director of the Southern New Hampshire University MFA program,"is that willingness to let things intrude, to expand into other dimensions and assume deeper meanings."
Jamison is also an award-winning novelist—"The Gin Closet" (Free Press, 2010)—and her manuscript for "The Empathy Exams" won the 2012 Graywolf Nonfiction Prize. Its title essay is about her experience as a medical actor. "You pretend to have a certain disease so that a medical student can interview you and venture a diagnosis," she explained. "Later you rate the student on, among other things, bedside manner, degree of empathy."
So it's about that, yes, and—bank on it—something else as well.