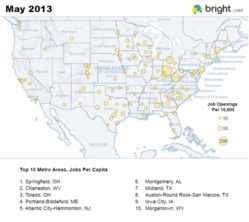 San Francisco, CA (PRWEB) June 05, 2013
Employment increased by 177,000 net jobs from May to June 2013 according to the May 2013 Bright Employment Report, which is produced by Bright Media Corporation and Bright.com. The report is derived from one of the nation's largest aggregations of job postings and resumes. This data is supplemented with government, financial, real estate, and other data sources, in order to measure changes in nonfarm private employment through a novel method utilizing inter-temporal substitution, regression, and labor supply.
Two other reports issued by Bureau of Labor Statistics (BLS) and Automatic Data Inc. (ADP) also include monthly estimates of net jobs created. For their monthly Current Population Survey (CPS; household survey), which derives their net non-farm jobs created estimate, BLS collects data each month from the payroll records of a sample of approximately 145,000 nonagricultural business establishments. ADP also uses payroll data, however their estimate focuses on the payrolls of private businesses in their system. Thus, these three metrics from Bright, BLS, and ADP each examine unique aspects of the labor market.
This month's estimate of 177,000 net jobs created comes on the heels of last month's report by the BLS indicating that 165,000 jobs were created in April, compared to 171,000 estimated by Bright. Rather than slipping further, job creation appears to have recovered nearer the levels seen around the beginning of the 2013.
About Bright.com
Bright was founded in 2011, and has raised over $10 million in financing from Silicon Valley institutional and angel investors. A first in the market, Bright is not just an innovation in online job search; its mission is to move the labor markets faster.
Bright spent 18 months developing the Bright Score, an algorithm that instantaneously scores and sorts candidates for any given job position based on the candidate's education, experiences, skills, and network connections. The Bright Score eliminates the lengthy and expensive task of finding the right fit between an open position and a qualified candidate. Now, job seekers may apply to jobs where they have the best chance of attracting the attention of hiring managers. Recruiters can locate the most qualified candidates within seconds, reducing the time spent searching for top prospects and sifting through applicants by up to 90%.
In order to accomplish this, our data science team analyzes the hiring trends of every company and industry in every city in the United States, and delivers the most up-to-date, specific, and comprehensive analysis of the employment market. For more information about Bright, visit our websites at Bright.com and Bright.com/labs © Copyright 2013, Bright.com. All Rights Reserved.