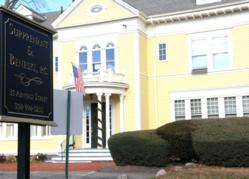 what a novel way to help people having difficulty feeding their families who depend on food pantries to put food on the table...
New Bedford, MA (PRWEB) June 04, 2013
The firm believes that small actions can make a big difference in a community. Given the current economic climate some friends and neighbors may be out of work and may have difficulty feeding their families, while depending on local food pantries to put food on the table. This newly announced, novel "Estates to Plates" program requests attendees to the seminars or consultations to bring non-perishable or canned food items for the local food pantries to help feed financially struggling families. At the end of each month all donations are brought to food pantries in our communities.
Most people think canned food drives are only for the holiday season, yet the truth is the need exists year-round. The Massachusetts Estate Planning Law Firm of Surprenant & Beneski, P.C. is making such food drives an on-going event throughout the year. The firms clients are blessed to be part of wonderful communities that come through when the need is so great.
If someone is unable to attend one of the free seminars or does not have a consultation scheduled, they can still bring any donations to the Law Firm's office at 35 Arnold Street, New Bedford, Monday-Friday 8:30 a.m.-5 p.m.
The firm has also recruited "Community Partners" to team up for this worthwhile campaign and if more convenient, donations of non-perishables can be dropped-off at any of these locations:
Atria Assisted Living, 391 Alden Rd., Fairhaven, MA
Autumn Glen Assisted Living, 239 Cross Rd., Dartmouth, MA
Happier in my Home, 272 Lincoln Ave., N. Dighton, MA
Bayada Home Health Care, 341 State Rd., Dartmouth, MA
Sacred Heart Nursing Home, 359 Summer St., New Bedford, MA
Our Lady's Haven Nursing Home, 71 Center St., Fairhaven, MA
Emeritus at Dartmouth Village, 274 Slocum Rd., Dartmouth, MA
Beacon Adult Foster Care, 93 Spring St., New Bedford, MA