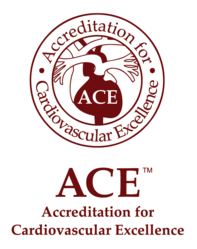 The cardiac cath lab at Lawrence General Hospital is a leader in providing high quality care to our patients. ACE accreditation fully validates our commitment to clinical excellence. - Kathy Caredeo, RN, BSN, MM, Director of Cardiovascular Services
Lawrence, MA (PRWEB) June 04, 2013
The staff at Lawrence General Hospital, Lawrence, MA, already knew they had a quality program. When Seth Bilazarian, MD, FACC and Kathy Caredeo, RN, BSN, MM, Director of Cardiovascular Services, approached ACE to begin the accreditation process, they were "looking for third party validation and a means to benchmark against others utilizing Appropriate Use Criteria (AUC)," states Ms. Caredeo. "We knew that ACE is the only provider of Cardiac Cath/PCI accreditation and, as a community hospital that performs PCI without on-site cardiac surgery, we also knew that ACE could put us on the map."
Being the first hospital in New England to achieve ACE accreditation distinguishes Lawrence General Hospital. "Dr. Bilazarian was aware of the credentials of the ACE leadership and the organization's professional affiliations. ACE's method of engaging cardiologists in the quality outcomes process, providing support and promotion, interested us very much," said Ms. Caredeo. The prevalence of influential world-class teaching hospitals in the Boston area is a significant factor and certification by ACE "shows that Lawrence General is serious about quality."
Massachusetts is fully engaged in the accountable care environment with the state's healthcare processes currently being adopted on the federal level. Public reporting scrutiny is an unequivocal reality because "Massachusetts requires PCI reports to be sent to ACC and MASSDAC, a state-wide database," notes Ms. Caredeo. "ACE performed a thorough investigation of our quality processes. They suggested further development of certain practices to enhance our quality program. We have a better program now and the confidence to sustain it." Mitigating risk and process variability and supporting continuous quality improvement (CQI) defines the on-going partnership with ACE. ACE accreditation distinguishes your cath lab and exists to help you on your quality journey. Visit the ACE website for additional information and to schedule a complimentary one-hour consultation: http://www.cvexcel.org
About Lawrence General Hospital
Lawrence General's commitment to the health needs of the community is guided by a dedicated and enthusiastic Board of Trustees from our service area, and carried out by 1,800 employees, 500 providers and 200 volunteers. Lawrence General Hospital is clinically affiliated with Floating Hospital for Children at Tufts Medical Center for pediatrics and Beth Israel Deaconess Medical Center.
About Accreditation for Cardiovascular Excellence
ACE, an independent organization sponsored by the Society for Cardiovascular Angiography and Interventions (SCAI) and the American College of Cardiology Foundation (ACCF), offers independent evaluation and monitoring of facilities that provide cardiovascular care. By reviewing facility and operator performance and comparing clinical decision-making to nationally accepted best practices, ACE peer review and accreditation services plays a critical role in continuous quality improvement programs. Learn more at http://www.cvexcel.org.