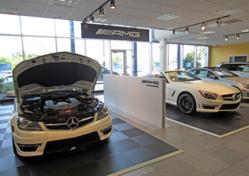 Arlington, VA (PRWEB) June 28, 2013
AMG® Performance Centers offer the highest level of sales and service experience to the loyal and passionate Mercedes-Benz customer base, as well as exceptional knowledge of the AMG® brand and vehicle models. Mark Zetlin, General Sales Manager explains, "Our dealership is proud to receive the honor and distinction of being an official AMG® Performance Center, and we are excited to continue to grow our Mercedes-Benz AMG® vehicle inventory for our customers."
The AMG® line of vehicles feature unique body-work, modified suspension, exclusive wheels and badging, and hand-built high performance engines. AMG®'s "One Man, One Engine" philosophy is at the core of the Brand, with a single Master Mechanic assembling the entire AMG® engine from start to finish.
The redesigned sales showroom at Mercedes-Benz of Arlington boasts the unique AMG® brand identity at their long-time home at the corner of Glebe Road and North Randolph Street in Arlington, VA. High-quality materials, exclusive furnishings and a palette of colors that is representative of AMG® create an exclusive atmosphere for consultations.
Vehicles currently displayed in the AMG® Arlington showroom include the C 63 AMG®, SL 63 AMG®, SLS AMG® Convertible and ML 63 AMG®. Between now and 2017, AMG® will introduce 18 new models, including the only 7-seat high-performance SUV on the market.
About Mercedes-Benz USA
Mercedes-Benz USA (MBUSA), headquartered in Montvale, New Jersey, is responsible for the distribution, marketing and customer service for all Mercedes-Benz products in the United States. MBUSA offers drivers the most diverse line-up in the luxury segment with 12 model lines ranging from the sporty C-Class to the flagship S-Class sedans and the SLS AMG® GT.
MBUSA is also responsible for the distribution, marketing and customer service of Mercedes-Benz Sprinter Vans, and smart products in the U.S. More information on MBUSA and its products can be found at http://www.mbusa.com, http://www.mbsprinterusa.com and http://www.smartusa.com.
For full bios and photos visit the MBUSA Media Site, http://www.media.mbusa.com.