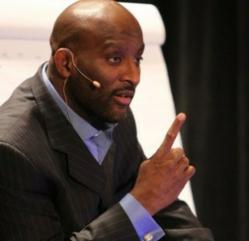 Camp Springs, MD (PRWEB) June 05, 2013
Lloyd Irvin, the leading martial arts school owner and internet marketing expert, has this month released a new home study course teaching business owners and others how to create more effective website headlines so they attract more new customers.
Lloyd feels all types of businesses are losing money and failing to attract customers because their website headlines are not good enough. He argues that the most important part of any website – especially a sales letter – is the headline.
He comments:
"The job of the headline is to make the reader stop, pay attention and decide if they are going to read any more. If the headline doesn't grab someone's attention, they will quickly move on to another website. One of the reasons I created this new home study course is to help people write better headlines."
He says a good online salesletter can be one of the most effective elements of marketing for any business but it's absolutely crucial that the headline gets people interested right away and wanting to know more.
He argues that the biggest mistake many business owners make in their advertising and websites is not having a good headline at the top of their web page.
He says:
"At the top of the page where the headline should be – the most valuable real estate – they put their company name or logo. Like somebody cares! You'll never see an ad from me with Lloyd Irvin Mixed Martial Arts as the headline."
Lloyd believes you need to focus on getting people to respond and the headline is the most important step in getting people to respond.
He comments:
"Whatever results you are getting from your website right now, I guarantee a good copywriter – or even you – could write a better headline that will increase your response. But most people put up a website and it's like a dinosaur – it's there for years and nothing changes. They never test anything or try anything new. So if you have a website that converts 12%, it will convert at 12% for life. You'll never get anything better unless you test new headlines."
The new home study course teaches direct response marketing techniques that are designed to ensure that people take a specific action when they see your advertising – such as contacting you direct.
It features 23 DVDs and more than 750 pages of modules, guides and bonuses helping anyone to use the internet to build their existing business or to create a new online business from scratch.
For details of the home study course and other Lloyd Irvin marketing programs, sign up for more information at http://www.lloydirvin.org.
Lloyd Irvin is a successful martial arts school owner and internet marketing expert who teaches other martial arts school owners and people interested in internet marketing how to use internet marketing and direct marketing techniques to build successful businesses.