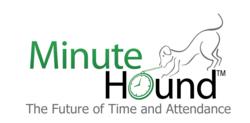 The traditional manual timecard system has many disadvantages, MinuteHound has changed that.
New York, NY (PRWEB) June 19, 2013
MinuteHound, a leading time and attendance technology company, announced today their cloud-based technology can save businesses up to 8% on payroll costs. MinuteHound's system eliminates many of the problems which plague traditional time card systems. Their biometric system is simple: Employees place their finger on a small sensing device which clocks them in and out automatically. Employee time clocks are the easiest prevention of time theft and buddy punching.
Because the fingerprint data is encrypted and spread over four different servers worldwide, it cannot be traced back to any individual worker. Employee privacy is secure, while managers can monitor each worker by reviewing e-mails or text messages sent by the system.
The data is stored immediately in the cloud. The biometric method eliminates or reduces many of the disadvantages of a traditional timecard system including:

Employees having their friends punch them in and out.
Overtime that has not been approved by management.
Broken or forged timecards.
Human error.
"The traditional manual timecard system has many disadvantages," a company spokesperson said recently. "It is difficult to get timely reports so that management can adjust their plans and budgets accurately. In addition, manual systems have more potential for human error and fraud. Our biometric system eliminates these problems and provides much more sophisticated reports."
The MinuteHound biometric fingerprint system only takes a few minutes to set up and is accessible from any Internet-based computer in the world. Managers are e-mailed instantaneously with alerts if employees show up late, miss their assigned shift, or try to leave early.
"Recent data from the American payroll Association (APA) reports that more than $148 billion are lost every year from poor time systems," the company spokesperson continued. "In addition, the APA report says that anywhere from 5 to 10% of all payroll costs can be attributed to time theft. Our unique time system will reduce inefficiencies and save money for every business with employees."
The MinuteHound time clock system does not need a dedicated terminal or PC. The biometric scanner is connected to a traditional computer with a USB cord. This flexibility means that it can be used with a point-of-sale terminal, a backend inventory tracking computer or any other standard computer.
In a litigious society, the system also protects companies from frivolous lawsuits by providing ironclad proof of attendance. In addition, managers can adjust staffing instantly by monitoring the work load of hundreds of personnel around the globe.
Additional labor expense is eliminated when it comes time to reconcile payroll timecards. Since there are no timecards to calculate, this laborious task is eliminated. Instead, managers enjoy the convenience of accurate reports that are sent to them automatically on schedule.
"Our biometric method is the future of time and attendance systems. Our clients save money immediately by reducing waste, inefficiency and inaccurate reporting. Since many of them travel as part of their job, they also enjoy being able to access payroll and employee data from anywhere in the world."
MinuteHound Contact Information
Website: http://www.MinuteHound.com
Email: info@MinuteHound.com
Phone: (800) 351-7237