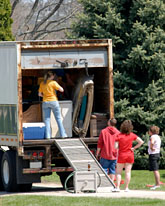 (PRWEB) June 03, 2013
Even if most of the companies on the market specialize themselves in providing long distance services, Movers.net has put together a large number of professional local movers so that people who don't need to cross hundreds of miles away would have someone to turn to for assistance and support. Many customers feel they have been left out, because so many moving companies focus their attention specifically on long distance routes.
But providing service and support for people in need of short distance services can actually turn out to be a satisfying accomplishment in both cases. Customers and moving companies can receive incredible benefits by deciding to work together, since there are only advantages in this type of situations.
The thing is, in some cases, moving out to a new local community can turn out to be just as exhausting and overwhelming for customers, much like moving to hundreds of miles away. This is the reason they need assistance and professional services, to help them transfer their belongings and properties in the safest way possible.
Given the fact that so many moving companies tend to focus their attention on long distance routes, there is a serious loss of profit involved and a great number of customers who cannot benefit from special services. This can only mean that companies will consequently lose a large number of potential clients.
To explain this kind of situation and the benefits of having short distance professional movers, Randy Rodriguez, founder of Movers.net said: "We were very concerned about the losing interest in short distance moves. Surprisingly, over eighty percent of customers move within a hundred mile radius. Leaving them out to fend on their own was not just bad ethics, it was a bad business move as well. We decided to develop a strong network of companies that would cater to the audience of individuals who wanted to stay within a certain geographic radius. With the release of our dedicated network, customers can request quotes, negotiate discounts, and be assured that they would be working with companies that truly value their business."
The company made an important and valuable decision by agreeing to dedicate their services to all customers, regardless of their demands. The large number of local movers, provided by Movers.net, fight for competition and new client perspectives, which means that customers have the most to gain from this situation. The company provides excellent services and reliable customer support, no matter what kind of help they need.
To find out more on this topic and about the company please access: http://www.movers.net/local-moving/.