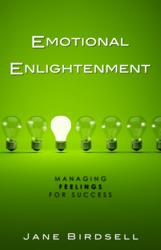 How you feel is who you are.

Jane Birdsell 2012
Calgary, Alberta (PRWEB) June 04, 2013
Knowing what you think and how you feel are essential for authenticity. "How you feel is who you are" says Jane Birdsell in her new video which describes her motivation to write her book Emotional Enlightenment:Managing Feelings for Success. Birdsell believes that when people know how they feel they are more self-aware and more able to be authentic. Knowing how others feel is the essence of empathy and the key to understanding them.
As a Counselling Psychologist for 25 years, she discovered that many people have difficulty identifying and naming feelings. They can describe events in their life and talk about their thoughts but can rarely express how they feel. She fears that to avoid talking about feelings is to deny an important part of self.
Birdsell wants to help people become more emotionally literate. Recognizing the need for this, she was inspired to write Emotional Enlightenment in which she encourages people to become their own expert on emotions. She believes that when people can understand emotions, their own and others, they have essential tools for personal and professional success. She connects with the wisdom of Lao Tsu, the Chinese Philosopher, who in the 6th Century BCE said, "He who knows others is wise. He who knows himself is enlightened."
In her video, Jane Birdsell reveals her belief that this wisdom also holds true in the 21st Century. She thinks that acquiring the skill to know and express one's own feelings and to understand the thoughts and feelings of others provides a hope for more harmony in our world. In her book, Emotional Enlightenment, she dissects feelings to reveal what they really are so that people can become more informed on the nature of feelings and more able to manage them effectively.
The book is available at Amazon and Barnes & Noble in the United States and at Owl's Nest Books and other quality bookstores in Canada. It is also available on Kindle.
About Author Jane Birdsell:
Jane Birdsell has been a Nursing Instructor, a Public Health Nurse and a mother of two children. After her children started school, she obtained a Master's Degree in Counselling Psychology from the University of Calgary. For 25 years, she worked as a psychologist conducting her own private counseling practice and teaching Personal Development Seminars. At the University of Calgary, Division of Continuing Education, she taught a course for 18 years called Understanding Self-Esteem: A Discussion and Information Course for Women. She also taught Enhancing Personal and Professional Effectiveness (for men and women) for 14 years. Jane launched her book at Owl's Nest Books in Calgary on June 19th, 2012. She is enjoying the success of her book, which has appeared frequently on The Calgary Herald best seller list since its launch.
Contact
Jane Birdsell, author, retired psychologist
1323 Riverdale Avenue, Calgary, AB.
Canada, T2S 0Z1.
Phone H: 403-243-2001
C: 403-689-5355
Email: janebirdsell(at)shaw(dot)ca
http://www.janebirdsell.com