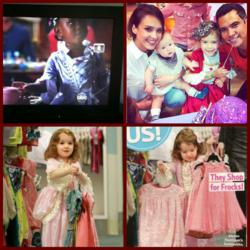 (PRWEB) June 28, 2013
Celebrity children like Jessica Alba's daughter is wearing our Winter Beauty dress; Alyson Hannigan's daughter is shopping for pink dresses in our Parisian pink princess dress. And just this month our Royal Rapunzel dress was in the last scene of Grey's Anatomy's May 9, 2013 episode. How cool is that?
These three costumes are very fancy traditional dresses and perfect for hours of fun dress up play. They are made of washable, durable fabric, have no buttons to frustrate little fingers and no Velcro to snag the fabric. The bodices are stretchy to help accommodate most body sizes. They also come with a free hair bow.
The Red Winter Beauty Dress is a classic design for Fall and Winter holidays or any time of year. The deep red stretchy velvet bodice is detailed with a quilted print, golden trim and a red rose. The mid-length sleeves with gold trim end in a beautiful white gathered ruffle design. The red skirt finishes the luxurious look of this gown with the addition of an ivory panel in a glitzy gold swirl.
The Parisian Pink Dress is a wonderful princess dress that looks like it came from Paris. The bodice is made of soft crushed velvet with an inset of crushed ivory velvet. The trims are gold and pink ribbon. The puffs are abundant and trimmed with an ivory ruffle. The sleeves are ¾ lengths with crushed velvet and have a double china silk ruffle.
The Rapunzel dress up costume includes a glittered purple and white velvet bodice with beautiful silver sequin lace and purple crisscross trim, along with fancy mid-length sleeves. The hip draping accentuates the fullness of the skirt.
Keeping up with what celebrity children are wearing without spending a lot of money is easy - shop Playfully Ever After for Little Adventures or Creative Education dress up items for your children.
Playfully Ever After, LLC
Based in North-Texas, Playfully Ever After is an internet toy retailer specializing in educational toys, games, pretend play costumes, and science kits. Established in 2012, they aim to inspire creativity and imagination in children and adults alike, living by the motto "and they all lived Playfully Ever After."