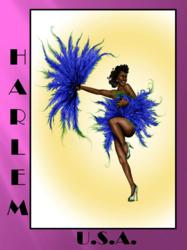 There's no denying the magic of Harlem!
BROOKLYN, NY (PRWEB) June 04, 2013
Online Black Pinup Girl-themed gift and accessory store Noir A-Go Go is taking its show on the road. Owner/Designer K.C. Washington will vend not one, not two, but four days in the historic neighborhood of Harlem throughout the month of June.
"I'm a Brooklyn gal but there is no denying the magic of Harlem. And with hallowed places like the Apollo and the Savoy, one could make the argument that Black pinup girls were born in Harlem," says Washington.
Noir A-Go Go pinup products such as their new smartphone cases, assorted greeting cards, tote bags, and compact mirrors, are sure to channel the vintage glamour of the Harlem Renaissance.
Although Washington and her pinup gals---Charlie, Belle, and Harper among them---won't be making the Apollo scene this time, they will be at P.S. 180 and the second annual Harlem Arts Festival.
"Harlem is always so vibrant but it really comes alive in the summer. We are very excited to be a part of the history of such a great section of New York."
About Owner and Designer K.C. Washington
K.C. launched Noir A-Go Go in January 2011, with the idea that something was missing within the American pinup girl genre, namely women of color. So she decided to put what she calls a sepia spin on the beloved genre and Noir A-Go Go was born. Convinced that the world is more than familiar with the image of African Americans fighting for their rights during the Civil Rights era, she wants to show another image from that time---one of glamour and wit. A Mellon Fellow and a novelist with a background in journalism and literary and historical fiction, K.C. has raised the curtain on a world of beautiful, empowered, stylish women (and a few men) and placed them on everything from magnets and tee shirts to tote bags and greeting cards, with more to come as she expands.