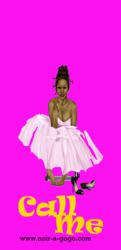 The response to the new phone cases has been phenomenal.
Brooklyn, NY (PRWEB) June 25, 2013
BREAKING NEWS: Noir A-Go Go and her Black Pinup Girls to show their wares at this year's NYC Urban Tattoo Convention, June 29-30. Be there or be square.
And in other news: In a bid to go bigger and deeper into the world of gifts and accessories, Noir A-Go Go plans to release Black Pinup Girl-themed smartphone cases this month.
The cases will come in two different styles: 4/4S for the iPhone user and Galaxy 3 for Galaxy smartphone users. They will also sport three different images.
"We've had requests from several of our loyal customers asking for phone cases," says Owner/Designer K.C. Washington. "For the last couple of months, I've been using a prototype as my personal phone case and the response has been phenomenal."
The images on the cases will be decided by a "Can We Talk? Choose A Pinup" contest Washington plans to run.
"My regular, monthly eblast subscribers will vote on four images, three of which will be chosen from whichever one gets the most votes and one lucky subscriber will win a case of their very own," says Washington.
The Black Pinup Girl-themed phone cases join other Black pinup girl products such as compact mirrors, greeting cards, and Noir A-Go Go's ever popular magnets.
About Owner and Designer K.C. Washington
K.C. launched Noir A-Go Go in January 2011, with the idea that something was missing within the American pinup girl genre, namely women of color. So she decided to put what she calls a sepia spin on the beloved genre and Noir A-Go Go was born. Convinced that the world is more than familiar with the image of African Americans fighting for their rights during the Civil Rights era, she wants to show another image from that time---one of glamour and wit. A Mellon Fellow and a novelist with a background in journalism and literary and historical fiction, K.C. has raised the curtain on a world of beautiful, empowered, stylish women (and a few men) and placed them on everything from magnets and tee shirts to tote bags and greeting cards, with more to come as she expands.
Please note that Noir A-Go Go will not be participating in this year's Harlem Arts Festival, but please check our website for future vending dates. Thank you.