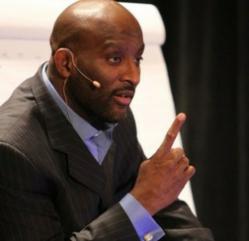 There are five keys to an effective online salesletter
Camp Springs, MD (PRWEB) June 05, 2013
Lloyd Irvin, the leading internet marketing expert, has this month released a new home study course teaching business owners and others how to create effective online salesletters.
He says one of the best ways for business owners to improve their results from their advertising and marketing is to ensure it generates more interest among their prospects.
His new home study course teaches some of the key elements of salesletters that work.
Lloyd says:
"A good online salesletter is like having a salesman working for you around the clock, 24 hours a day, seven days a week. Any business owner should be developing their sales skills and I believe that learning how to write effective salesletters is an important sales skill. That's why I developed this new home study course."
According to Lloyd, these are the five keys to an effective online salesletter. It needs to:
1. Get attention
2. Arouse interest and emotion
3. Tell an interesting story in a believable way
4. Offer an incentive to take action NOW
5. Ask for action and make it easy for people to do it
He says that one of the most important ways to do that is through having a strong headline on the salesletter.
Then you need to follow a proven step-by-step process to ensure the salesletter encourages people to take the action you want.
These steps include having a clearly-defined offer, delivering social proof, providing guarantees and including a strong call-to action.
Lloyd adds:
"Many business owners are initially hesitant about using salesletters in their marketing. But we have seen so many times that having a strong salesletter helps them attract more prospects and customers."
The new home study course teaches direct response marketing techniques. It features 23 DVDs and more than 750 pages of modules, guides and bonuses. It aims to help anyone to use the internet to build their existing business or to create a new online business from scratch.
For details of the home study course and other Lloyd Irvin marketing programs, sign up for more information at http://www.lloydirvin.org.
Lloyd Irvin is a successful martial arts school owner and internet marketing expert who teaches other martial arts school owners and people interested in internet marketing how to use internet marketing and direct marketing techniques to build successful businesses.